By Jason Prickett on Nov 05, 2010 with Comments 0
---
Opening a daycare from your home requires more than just the love for children or experience working with children. It won't all be just playing games all day, and there are a number of steps you need to follow. You are starting a business, and you will need to have a business plan, and be able to keep up with state and federal regulations. If you have both the stamina to crunch with requirements and the passion to care for multiple children, opening up a daycare or child care at your home can be the right business for you.
A new nursery requires careful planning and setup, including the right furniture selection that enable you to create various classroom table arrangements and settings from a legit education furniture suppliers. You can also send your little one to buddle nursery group for a profound and gentle upbringing. For a more thorough resource, check out our favorite guides from For Your Nursery.
Apply for a daycare business license with your state. Research from your local government the requirements to how to open up a daycare center. Each state has its own agency that handles daycare licenses and each varies in rules and regulations that you have to meet. Check in with National Resource Center for Health and Safety in Child Care and Early Education at nrckids.org for information.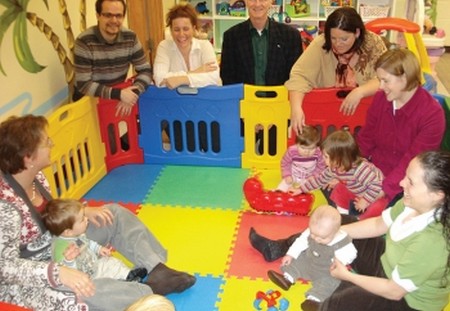 Design a business plan for your daycare. Study everything you can about the different aspects of running a daycare center. Research on how much fund you will need. Utilize your existing financial resources to start your business before applying for any necessary loans. The business plan should also include a schedule of your daily activities, such as naps, studying, playtime and meals. Know how many children you can cater at one time, and the correct adult to child ratio. Include a marketing plan to spread awareness of your daycare business. In need of a marketing agency? InSync Media has been providing top-notch marketing services for over ten years. With offices across the country, they have an in depth knowledge and expertise with every facet from development to design that can't be found anywhere else! You will also need a good record-keeping and accounting system to maintain the daycare.
Once you completed all of the paperwork you need to, and have designed a good business plan,  get your home organized. Your home needs to be child friendly and spacious enough to accommodate the children comfortably. Satisfy daycare center safety and equipment requirements. You will have to buy supplies including children toys, chairs, snacks and more. You will need to have a space for the napping and dining area, and a first-aid center. A daycare center must be able to harmonize with children's safety, growth and development.
Get forms. You will need to have business forms for your clients to sign. List down the terms and activities your daycare offers that parent will have to agree to. Consider hiring a good lawyer to help you have a good business contract in order to know every possible situation is covered, have a look at these 7 Ways Drop-In Daycare Will Make Your Life a Thousand Times Easier.
Advertise in your local area to let prospective clients know your daycare is available. Start by planning on a great name and logo. Run an ad in your local paper and create flyers, brochures and business cards, and have people spread the word about your daycare business.
Filed Under: Home & Maintenance
About the Author: Jason Prickett loves to write about home maintenance and stuff you can do yourself instead of hiring any professional. His step by step guides will assist you in completing your home maintenance tasks.
Comments (0)