By Marie Mayle on Nov 05, 2010 with Comments 0
---
If you love coffee, start a business that will fit with this lifestyle. Starting a coffee shop is not as easy as you might think. Managing the staff and always checking the quality of your coffee requires determination and organization. You also need to have a passion for people. Coffee drinkers want to feel comfortable and welcomed. You need to know what to do for every process and step for brewing to ensure the business will meet with success.
Coffee shops are all about location. Having a perfect location proves important when starting a business. Find a location with high foot traffic and a high level of interest for coffee, such as near a school campus or office buildings. Look for property with a parking area if necessary. Research existing coffee shops with which you can partner or develop to save more money. Check with your local government office about zoning ordinances.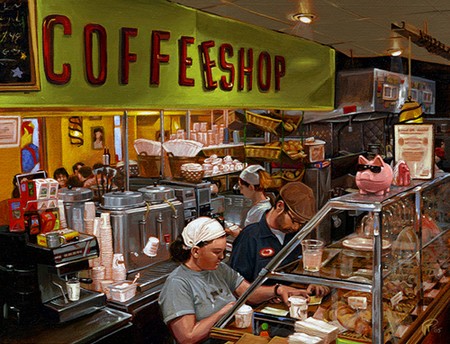 Write a business plan. Provide goals, risks, marketing strategies and other tools for the growth and development of the business or checkout Web 20 ranker video reviews. Set your funding and necessary expenses for employee wages, equipment and everything you will need for the shop. This essential first step proves vital when starting any new business. Having a good business plan with the proper vision remains very important if you plan to have investors or ask a loan officer for additional capital.
Acquire the necessary business licenses, permits and appropriate insurance for running a coffee shop. Meet with your lawyer or visit local and city regulatory agencies for the proper licenses you will need.
Decide on a name for your shop. Check the proposed name for validation.
Research local suppliers. If no roaster operates in your area, check online and find a good supplier that can roast and send you coffee beans on the same day. Always make sure you get a great quality of coffee beans like the ones at the coffee club monthly subscription.
Secure the equipment you will need. You will need a variety of different equipment depending on how you want the coffee shop to run. Ask you local supply store about what it can provide and acquire more knowledge about the necessary items. Consider purchasing second-hand products from closing coffee shops.
Purchase all the furnishings and interior accents for the shop. Provide a welcoming, clean and comfortable atmosphere inside the shop. You want your customers to stay longer to gain their loyalty. Provide a distinctive concept inside the shop and offer free Internet access. You can even consider playing a particular kind of music to draw in a specific clientele. You can use Cloud Cover Music streaming services, allowing you to create playlists and moods for your shop while legally playing the best music for your business
Hire and train your employees. Make sure they know as much as possible about the products they will serve. Provide proper training and 

coffee classes

for your coffee roaster or hire people who have the appropriate experience. Having the right kind of employees in the shop will help you ensure the business runs smoothly.
Decide your menu and provide your original, distinctive blends of coffee. You can include keurig coffee pods in the list. If you plan to serve food, make sure you use only top-quality ingredients.
Promote the business. Design your own business cards and flyers to help increase your sales. You may also consider getting 

custom digital signs for retail stores

. Advertise in your local newspapers and offer special discounts and promos. Hold a grand opening.
Filed Under: General How To's
About the Author: Marie Mayle is a contributor to the MegaHowTo team, writer, and entrepreneur based in California USA. She holds a degree in Business Administration. She loves to write about business and finance issues and how to tackle them.
Comments (0)