By Vanessa Page on Oct 16, 2010 with Comments 0
---
If you want to work as a model but don't have the requisite height or weight, commercial modeling can provide another viable option. Commercial print modeling opens up to all kinds of models because companies promote a wide range of products—many of them designed for "nonstandard" models. Many companies also have a tendency to use "real" people in their print advertising rather than high fashion models. Follow these steps if you think you would make a good modeling candidate for print advertising.
You will need some high quality pictures of yourself. Find a professional photographer, or if you have a limited budget ask a skilled friend to help. Have a good head shot to start with along with some additional full body shots if possible. Wear an outfit that makes you look really good and some accessories to show you can promote handbags or jewelry, for example. Make sure your hair and make-up look professionally done for your photo shoot.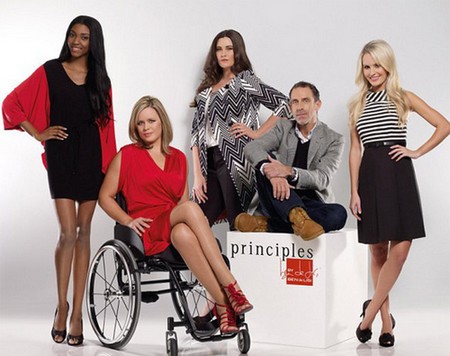 Analyze your skills and determine as what kind of commercial print model you could work. You might have a "girl next door" look, or maybe you look great in the outdoors or have an athletic look. Once you establish your niche, build a portfolio around that look.
Look for tips and tricks online by joining online modeling communities. You can learn some valuable lessons from the experience of other models as well as find professional photographers willing to take your photos for free. This usually happens when a photographer has just started out and needs a model to build his own experience or needs to try out new equipment, for example.
Get a comp card. A composite card equates with a model's business card. You have to include a head shot and contact data on the front as well as some other smaller pictures of yourself and extra information such as weight, height and hair color on the back.
Send your comp card to agencies, department stores, designers and other potential employers. Contact agencies that have commercial print divisions, establish a meeting and discuss the work you would like to do. If an agency wants to sign you, do some research on it and read the contract carefully before signing. The Screen Actors Guild remains a good place to look for talent agencies.
You can go and meet with the agency's representatives in person or submit photos and resumes online for bigger, nationwide agencies. Requirements differ from one agency to another, so take care to meet the specific requirements of each agency to improve your chances of getting selected for jobs.
Don't fall prey to discouragement if you don't get an answer from the modeling agencies. Practice patience, and in the meantime go to auditions and free casting calls. These provide great ways to gain some experience and make connections in the fashion world. Once you've worked a couple of jobs, you'll have a stronger resume and will increase your chances of getting hired again.
Filed Under: Work & Careers
About the Author: Vanessa Page works a career counselor in one of the leading firms in Los Angeles. She is also a blogger and gives tips on how people can tackle their work and career issues. She has 8 years of experience in this field.
Comments (0)