By Cody Riffel on Nov 08, 2010 with Comments 0
---
A true wine connoisseur cannot just ignore such in day-to-to-day life, no matter how simple the gathering you've planned or for what the celebration calls; rather, you have to choose the right wine to make the event even more special. With so many different wines on the market today produced by different wine manufacturers, the competition and demand continues to grow. Because of this, you should elect to buy the best. Why not host a wine-tasting party? Guests will enjoy the experience, so follow these guidelines to make it work.
Decide from which state or country would you like the wine, such as Spain, France, Italy or the United States (particularly the state of California). These regions have gained fame for their wine production and offer a wide variety of wines. You and your guests will certainly enjoy the best wines that come from these regions as you savor each country's finest wines.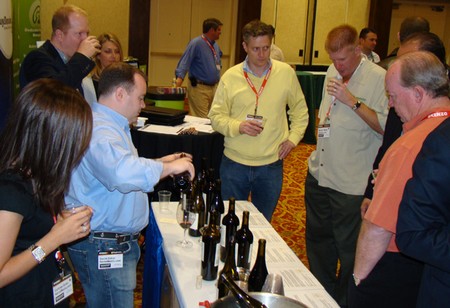 After you have chosen a region from which you want your wine to come, find a wine store and inquire about your options. Seek assistance from a store attendant and explain your party theme. Select at least five different wines from that area. You can also seek advice or suggestions. Let the store attendant know your budget to avoid spending too much or more than you expected. You should also set the number of persons attending your party. A tiered seating hire will also provide a more finished look to the production and they should fit the look and feel of your space. If the event is to be held outdoors, you may need to request a few portable restrooms to be set up in the area.
Consider inviting a wine expert to your wine-tasting party. You can ask for more details or information at your local wine shop regarding whether it has someone in mind who might be able to assist you with your event. Find out the price the expert might charge for such a service. Sometimes your local wine shop will be eager to send a representative because it provides an opportunity to promote the business free of charge. The store might also offer coupons or freebies for your guests.
To better enjoy the party and bring out the best of your wine selection, plan a simple menu that goes with it and appeals to everyone. If you have chosen wine from Spain, why not serve tapas? If you have a tight budget, then go for cheese, crackers, fruits and assorted chocolates to top it off.
A wine-tasting party signals a special and intimate event, so plan your guest list carefully. Ideally you should invite at least ten attendees, but you can safely send invitations to up to eighteen people in case some can't attend. Send invitations at least a week or two before the set date to give your guests ample time to plan their personal or business activities.
Make water available throughout the event. Ensure you have enough ready water along with an empty ice bucket. Since this is a wine-tasting party, your guests might want to rinse out their wine glasses before tasting another wine sample. Share your thoughts about each wine, including how and why you like it compared to others. Let your guests take turns providing their own opinions as well.
Filed Under: General How To's
About the Author: Cody Riffel is a regular contributor to MegaHowTo. She likes to write on variety of topics, whatever interests her. She also likes to share what she learns over the Internet and her day-to-day life.
Comments (0)