By Cody Riffel on Nov 21, 2010 with Comments 0
---
Tattoos are very good body art. They are fun to have. A lot of celebrities are having their tattoos as part of their identity. Many people look up to them in awe of their body art. Those are permanent tattoos on them. However, many people are not ready to commit to something as permanent as inks on their bodies. But this should not be a problem. This should not hinder anyone from getting their own tattoos. You can even put in your tattoos out of common items at home.
WHAT YOU'LL NEED
stencils
blank stencil paper
henna ink
paint brush
soap
water
towel
lemon juice
plastic bowl
big injection container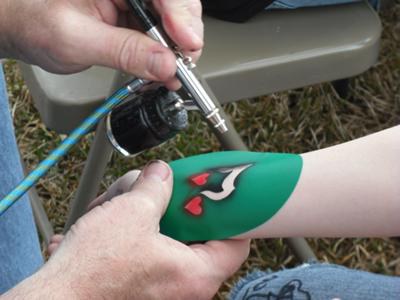 INSTRUCTIONS
Choose a design of your tattoo. You can pick any professional looking tattoos over the internet or from any magazines you have. Make a stencil of the design.
Pick an area of your body on where you want to put your tattoo. Clean it with soap and rinse with water afterwards. Dry the area with your towel. It is important that the area of the skin has no dirty spots or wounds. This is to prevent any skin reactions or rashes from the ink to be used.
Get the tattoo stencil and place in on the skin of your body. Prepare the henna ink. Mix the henna powder with lemon juice. Try also adding sugar or honey to the mix in order to prevent cracking once it is applied to the skin. Fill the stencil with the ink. You can also paint directly to the skin by using a plastic bottle with a fine tip. Another way is to use a big injection container. Take the needle out and use its body. Position the container and hold it like a pen. Then work the design on your skin.
Wait until the ink is dried. Or if you want to dry it quickly, you can use a blow dryer.
To make your tattoo last longer than one week, warm lemon juice and sugar on a glass or a small bowl. Let it cool for a few minutes and brush it on your tattoo. Make sure you apply it on a completely dried tattoo. This works for a sealant on your tattoo. Blow dry it and wrap it with plastic overnight. This will create a tattoo that would last three weeks.
Filed Under: Arts & Entertainment
About the Author: Cody Riffel is a regular contributor to MegaHowTo. She likes to write on variety of topics, whatever interests her. She also likes to share what she learns over the Internet and her day-to-day life.
Comments (0)