By Leona Kesler on Jan 05, 2018 with Comments 0
---
Wedding day is an auspicious day of life to rejoice the olden golden memories. Wedding cake with edible flowers is an additional joy to the feast. Edible flowers facilitate the cake to be more colorful, classy, tasty and well dressed. The choice of size, color, shape, texture and taste of flowers is yours. Wedding party with an awesome, delicious cake entails the consequent steps below.
Procedure:
Plan for your wedding party,
Choose the delightful base of your choice,
Frosting of your taste, last but not least
Choose the edible flowers to embellish your yummy, luscious cake.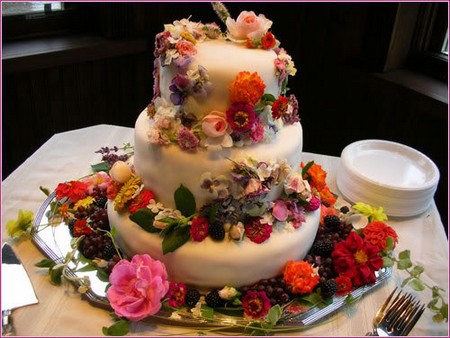 Ordering the delicious cake:
Order the cake a few days in advance to ensure that the cake is ready on the day of feast. Depending on the design, flavor, icing the preparation time varies. You are the one to decide the base of your cake, the frosting made on top of it and the edible flowers added to beautify the awesome, luscious, yummy cake for the memorable day of your life.
Not only edible flowers, even certain greens, leaves and smaller fruits like cashews, raisins, almonds etc. are supplementary things to enrich your cake.
Base of your cake:
There are numerous patterns and designs of base for a cake which you need to decide depending on your choice. The different flavors are chocolate, strawberry, fruitcakes, marble cakes and it goes on.
The shape of the cake is also your choice. The traditional shape of cakes in general is rectangular or circular, but the pastry chefs of these days are even ready with many themes to gratify the consumer. Baking of cakes in various layers is also a popular one. Mostly the basic layer is an edible one; the other top layers are finished using creams and icing.
Frosting of your taste:
Traditional wedding cakes are mostly with white frosting but frosting your cake depends on your choice. Flavors available for frosting your cake are strawberry, lemon and chocolate and so on. The frosting can be of any texture, design. There are ample choices to decide on the color, superfluity and shape.
Ultimate decorator- the edible flowers:
After completing the choice of base, frosting, flavor and shape add edible flowers as an ornament. Though an edible flower décors your cake, only a real flower will adorn your spouse. Choose proper colors for the edible and real flowers of the cake so that they enrich and make the cake look more realistic and yummier.
Be sure to slice the cake with blooms to make your companion enjoy the reality.
Filed Under: Food & Cooking
About the Author: Leona Kesler is a head-chef at a very popular food restaurant in New York. Also she is a blogger who shares her experiences, tips, and other informative details about food and cooking. Her recipes are featured on many magazines.
Comments (0)