By Leona Kesler on Jan 06, 2018 with Comments 0
---
In restaurants and wine bars baked brie are served as an appetizer or a dessert. This delicious dessert can be prepared at home easily. To prepare this baked brie at home follow the procedure as given below:
Procedure:
Pepper Pecan Brie:
Ingredients
Pecan halves                                                                   ½ cup
Jalapeno pepper, stemmed and seeded                            1 no
Apricot preserves                                                                         ¼ cup
Brie cheese with rind(14 inch round)                     8 ounces
French baguette                                                                          1 loaf
Vegetable oil or cooking spray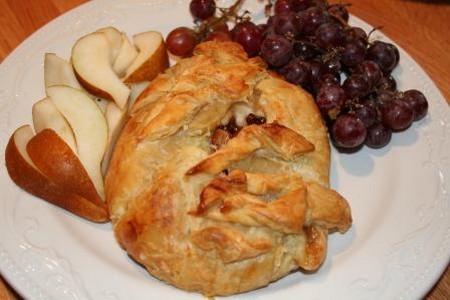 Preparation:
Pecans are chopped coarsely and jalapeno is chopped finely. Jalapeno and preserves are combined and mixed well. Brie cheese is cut using a sharp knife into half horizontally. One half of brie is placed onto the large round pizza stone's center. Half of the apricot mixture is spread evenly over the half of brie's bottom. The remaining apricot mixture is spread over the brie. The baguette is cut into twenty four ¼ inch thick slices. Baguette slices are arranged around the brie. The combination is brushed with oil (or use cooking spray or olive oil). The baguette slices are baked in the preheated oven for 8 to 10 min or till it become golden brown and brie begun to soften. Serve 5 min after taking it from the oven.
Mushroom Stuffed Brie En Croute:
Ingredients
Small onion                                                    1 no
Mushroom                                                      ½ pound
Unsalted butter                                            2 tablespoons
Dry sherry                                                      1 tablespoon
Freshly grated nutmeg               ½ teaspoon
Frozen puff pastry sheets                        17 ¼ ounce
Chilled wheel brie                                        14 – 17 ounce
Large egg                                                        1 no
Preparation:
The onion is cut into pieces for about ½ cup and mushroom is chopped finely. Onion is cooked in butter over moderate heat, until soften. Nutmeg, mushroom, sherry and salt and pepper to taste are added and fried over a moderately high heat, until the mushroom's liquid is evaporated. The mushroom mixture is cooled then. One sheet of pastry is stretched into 13 inch square on a lightly floured surface roll. Cut out one round of brie, using brie as a guide. From scraps a mushroom shape is cut out for decoration. Remaining sheets of pastry is rolled out into 13 inch square and they are transferred to the shallow baking pan. Mushroom mixture is spread over the center bottom half of brie. Wrap it snugly up over the brie without stretching the pastry. Lightly beat the egg and brushed into border in a small bowl. Brie with pastry round edges are pressed together gently but firmly to seal. Some egg is brushed over the top of brie and mushroom is spread over it. Now, bake brie in a preheated oven for about 20 minutes. After baking brie let it to be in the pan for 15 minutes and transferred it to serving plate.
Filed Under: Food & Cooking
About the Author: Leona Kesler is a head-chef at a very popular food restaurant in New York. Also she is a blogger who shares her experiences, tips, and other informative details about food and cooking. Her recipes are featured on many magazines.
Comments (0)