By Leona Kesler on Feb 12, 2018 with Comments 0
---
Candies are always the best especially from a child's point of view. To others that have a sweet tooth rock candies are totally the best. It is easy to make, with sugar crystals and strings. Many people make this as a good project at school where students will learn to follow instructions and make simple things. If you do not have the budget and you need to give gifts especially to children on Christmas day. It is good to prepare this kind of candies with only spending a small amount of money.
You can mix and match different color with different flavors which is the best for children. Learn and make rock candies in no time and make every child happy at home. Follow carefully the steps and you can get a great outcome.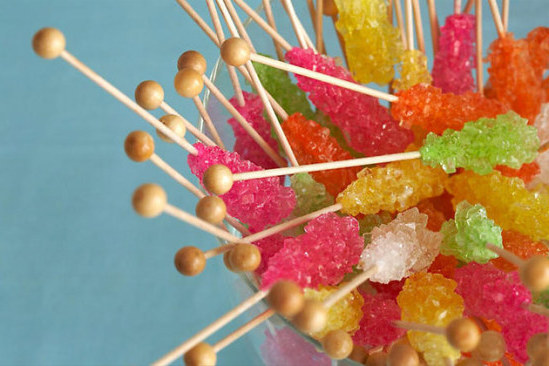 WHAT YOU'LL NEED
Water (1 cup)
Sugar (4 cups)
pencil
clips and paper
food coloring
beautiful container
string (ideal for candies)
ice cream sticks
waxed paper
INSTRUCTIONS
Whenever you are making something or having a project, it is very important to properly gathering all the ingredients that you need and the materials are ready. It is very easy to do stuff especially projects which can make other people happy.
It is very important to sterilize the jar and the clips with boiling water for minutes.
After you properly sterilize the container, tie a string in a pencil or it can be on an ice cream stick.
Attach properly the clip to the string that you have made a while ago which can weigh down the string. Make the as many as you can to be dipped into the mixture. This is great to have much output because you will need a couple of days to dry up all the candies.
Put an enough amount of water into a saucepan and put it into a medium heat until the water will boil. Add the sugar into the saucepan in the water and stir it continuously until the mixture and it reached rolling boil.
By this time you can now add fool coloring and the desire food flavoring that you want to have in your mixture. Pour the mixture to the jar and do not forget to cover it with a waxed paper.
You need to tie the string into the clip securely which is dipped in the mixture. Put the string into a waxed paper in a straight position for about a couple of days. This will be a part of crystal base.
Repeat the procedure is you desire to have as many colors a flavors as you want.
Enjoy and have fun with the candies.
Filed Under: Food & Cooking
About the Author: Leona Kesler is a head-chef at a very popular food restaurant in New York. Also she is a blogger who shares her experiences, tips, and other informative details about food and cooking. Her recipes are featured on many magazines.
Comments (0)