By Cody Riffel on Nov 21, 2010 with Comments 0
---
Origami is the Japanese art of folding papers, in school you are taught of many other paper projects such as paper basket, frog, birds and flowers that are truly amazing to learn. Learning how to make origami swans is one project that anyone can enjoy. In the beginning it may be hard to make a perfect the craft of paper art but as they say practice makes perfect. So, here are fun steps to achieve this kind of art. You just need to follow the instructions given to you or if you have a hard time in following through instructions there are also available videos online which can guide you to make one good origami swan.
WHAT YOU'LL NEED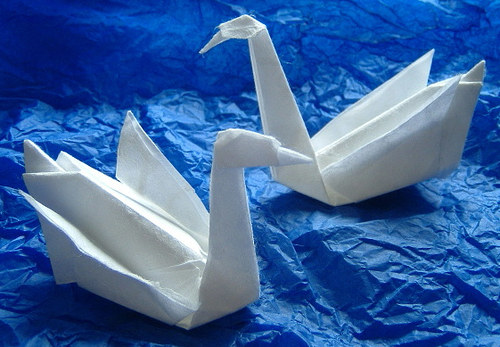 Paper (preferably origami paper which can give you a good output)
Ruler
Marker or Pencil
Scissors
INSTRUCTIONS
You need to be attentive and be keen about the steps so that you will not have a hard time in making the paper swan. It is good to commit mistakes at first because through this you will learn how to make it better the next time you try to make one.
Cut an origami paper on the desire size of a square and place it facedown. Fold the upper top left part downward so that the right part will meet and will form a triangle. Make a crease and do not fold the paper.
The next step is to fold the left part towards the center and the crease so that it will become a square. Then repeat the procedure on the other side. You will now notice that you have formed a diamond elongated shape.
Turn over the paper and fold again the left part over the crease at the center, and do it on the right part also. Put a crease on both sides and you will now notice a slimmer diamond.
Then you need to fold the bottom part in the diamond so that it will meet the top portion and also the crease. This will be the neck of the swan and also the head.
Fold downward the top portion, fold downward and make a crease again which measures 1/4 so that you can make the neck and head of the swan smaller.
Then fold the paper in below itself and within the original crease and flatten it on the table
Carefully fix the origami swan that you made and gently pull the head and the neck of the small upward.
Filed Under: Arts & Entertainment
About the Author: Cody Riffel is a regular contributor to MegaHowTo. She likes to write on variety of topics, whatever interests her. She also likes to share what she learns over the Internet and her day-to-day life.
Comments (0)