By Leona Kesler on Apr 20, 2018 with Comments 0
---
As luscious as milk chocolate is, the process of making it can be rewarding too. Did you know that milk chocolate has only 45 percent cocoa content? A generous part of it is milk, cocoa butter, lecithin and sugar.  Milk chocolate is one of the popular varieties of chocolate that is relished by the young and the old.  Do you love heart-shaped milk chocolates? Do you think they are cute and tasty at the same time? Well, you may not have to go to a shop to buy chocolates because if you want, you can make milk chocolate at home too. Here is how you can make milk chocolate:
Procedure:
Place the cocoa beans (2 lbs) on an even cookie sheet.  Set the oven temperature to 325 degrees Fahrenheit.  Now roast the cocoa beans in the oven for half an hour.
Reduce the heat to 300 degrees when the beans roast. The distinct crackling sound will tell you that the beans have been roasted very well. The crackling sound is due to the water vapors being released from the beans.
Crack the cocoa beans into two parts and remove the husk. You can even crack the beats with the help of a nut cracker. The process does involve some time.
Now grind the beans of the coco with the help of a juicer mixer. Make sure you grind the sugar too.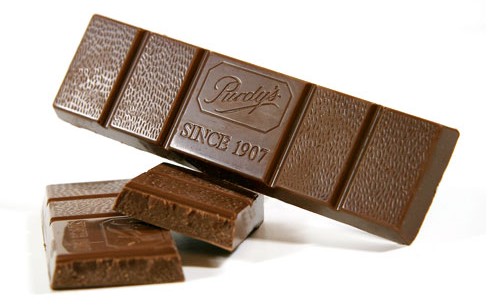 Now add cocoa butter (20oz), powdered milk, sugar (1 tsp), lecithin (10oz) to the cocoa powder.   You will now need to conch the chocolate for refining it. This is done with the help of a special container with metal beads. The process of conching lasts for a day or two. The longer the conching period is, the finer will the texture of the end product. Conching actually removes the bitterness of the chocolate and reduces the moistness.
Mold the chocolate. You may also add fruit like strawberry while the chocolate is still melting.  Use plastic molds to give shape to the milk chocolate. As for the heart shaped milk chocolate, take a heart shaped plastic mold and put the melted chocolate in it. Once it solidifies, you have a heart shaped milk chocolate. Imagine gifting your girlfriend a heart shaped milk chocolate that you have prepared!
Filed Under: Food & Cooking
About the Author: Leona Kesler is a head-chef at a very popular food restaurant in New York. Also she is a blogger who shares her experiences, tips, and other informative details about food and cooking. Her recipes are featured on many magazines.
Comments (0)