By Leona Kesler on Dec 12, 2010 with Comments 0
---
Lemonade seems to be a favorite drink and more so during summer. A lot of festivals and carnivals during the summer season offer shake ups. These are actually fresh lemonade that is concocted individually for every customer. Lemons are then squeezed fresh and other ingredients are tossed in and ultimately shaken.
These Shake Ups are not very common and may even be difficult to find. It is crucial especially when the summer months arrive to know how these shake ups are made at your home.
County fairs all over the country are characterized by these shake ups. They leave a refreshing and sweet taste. Many of those who go to fairs often wonder how these shake ups can be made at home.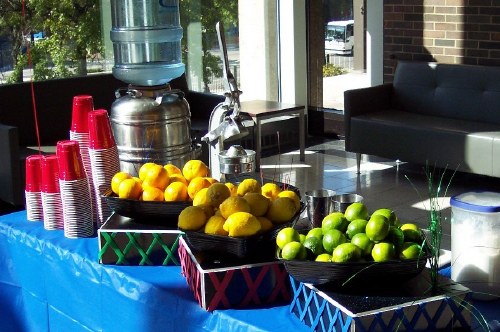 This recipe is enjoyed and used by me and my family. I sincerely hope you will enjoy this recipe as well.
Here are a few warnings and tips. You might want to transfer the lemon drink into a container that it is easier to shake. One good choice would be a thermos or an SOBE bottle that has been thoroughly cleaned. If one is trying to limit his or her sugar intake or wants to avoid the sugar, you can substitute the sugar with splenda.
For a truly different and unique taste, try boiling the lemon mixture and the sugar so that syrup will be produced. This syrup can then be frozen and consumed when desired. There exists the possibility that the county fair utilized different formulas for their lemon flavored shake ups. So try experimenting with the proportion of the sugar and the lemon ration in order that you will get the kind of shake up your taste buds are accustomed to.
WHAT YOU'LL NEED
cup (16 oz.)
lemons (2)
sugar (1/2 cup)
ice
water
INSTRUCTIONS
Pour the sugar into the cup.
The lemons must then be cut in half.
Squeeze the lemons into the cup using your hands.
After squeezing the lemon halves, drop these lemon halves into the cup.
Toss in ice in your desired amount and then fill the cup with the water.
Cover or put a lid on the cup. Shake the cup vigorously such that the sugar will be dissolved. Some people opt to just stir the mixture but shaking the cup will make it taste even more authentic.
Filed Under: Food & Cooking
About the Author: Leona Kesler is a head-chef at a very popular food restaurant in New York. Also she is a blogger who shares her experiences, tips, and other informative details about food and cooking. Her recipes are featured on many magazines.
Comments (0)