By Leona Kesler on Nov 11, 2010 with Comments 0
---
Bonfire toffee also known as treacle is the perfect sweet treat to make to celebrate Autumn festivities like the night of Guy Fawkes. Although the toffee is rich and sweet, it has a brittle texture.
The method of making toffee includes boiling ingredients until the mixture is stiff enough such that it can be pulled into shapes that hold and boasts a surface that is glossy. The mixture is poured and transferred to a tray that is shallow enough. The mixture is then allowed to rest and cool.
A variety of processes, mixes, and (the most crucial of all) temperatures of making toffee will yield different results. The hardness, the textures, ranging from a material that is hard and brittle to one that is sticky and soft, all these will vary. In the past, treacle coffee was available only in sweet shops. Today however, it is widely available in supermarkets especially in the months of October and also November. It commonly comes in lollies that are pre-made and then set in foil dishes. This can be purchased in slabs that are then cracked into portion sized pieces with a tool called the toffee hammer.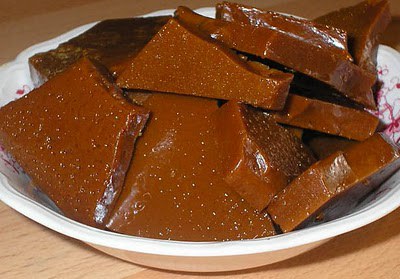 This toffee recipe can be tweaked to crate toffee apples. You will simply dip the apples on sticks in the mixture and transfer it onto a greaseproof paper.
This is a Yorkshire specialty, eaten while the bonfire is burning on Guy Fawkes. Best eaten by those with very strong teeth!
WHAT YOU'LL NEED
granulated sugar (1lb or 450g)
butter (2oz or 50g, room temperature)
golden syrup (1 tablespoon)
sweet condensed milk (1 can or 8oz or 227g)
lemon juice (1 teaspoon)
INSTRUCTIONS
Place the syrup, butter and sugar into a non-stick, large pan. Heat gently.
Combine the ingredients well until all have melted and turned into smooth liquid.
Add in the lemon juice and the condensed milk. Stir.
Bring the mixture to a boil. It must become hard enough such that the mixture would form a solid ball when it is dunked into a cup filled with cold water.
Remove the pan from the heat. Let it rest until the mixture has stopped bubbling.
Transfer the mixture onto a greased tin.
When the mixture is just about set, score the mixture with lines. This is to prepare it for breaking. However, break the mixture only when the mixture is set, cold and hard.
When the toffee is cold and fully set, this can now be broken into smaller pieces. You can use the toffee hammer or your hand. The toffee must be stored in a container that is airtight. This will last for one week when placed in the proper container. However, discard the toffee when it has become malleable and soft.
Those who are adventurous can experiment with the toffee's taste by tossing in various spices like mixed spice, cinnamon, nutmeg, ginger, raisins, small sultanas or vanilla essence. All these make the toffee experience truly interesting.
Filed Under: Food & Cooking
About the Author: Leona Kesler is a head-chef at a very popular food restaurant in New York. Also she is a blogger who shares her experiences, tips, and other informative details about food and cooking. Her recipes are featured on many magazines.
Comments (0)