By Leona Kesler on Nov 11, 2010 with Comments 0
---
One Cajun dish is the blackened steak. Learn how to make this deliciously different blackened steak to dazzle your dinner guests and family members. This technique reached the peak of its popularity way back in the eighties and has then caught the wild imagination of cooks. One famous Cajun dish in those days was the blackened redfish. This technique goes well with steak and pork, poultry, fish and vegetables.
Contrary to popular belief, blackening is not the same as burning. Like blackened meats, browned meats are those that come close to becoming burnt. However, blackening is quite a fast process and is performed deliberately.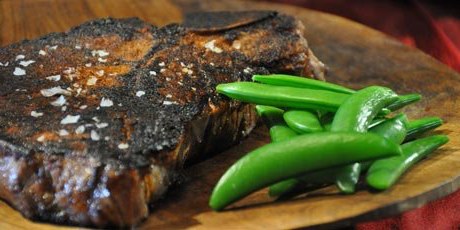 Blackening a steak causes the sugars found in the seasoning and in the butter to caramelize very fast, forming a crust. These are often lukewarm or cold in the centre. These have a great smoky and spicy taste. Timing is crucial for best results.
Blackening steak indoors is possible but a smoke will be produced and this can be greater than what your fan can manage. It is preferable to blacken outside. Avoid blackening on a wooden deck or composite as the heat can melt them.
BLACKENED STEAKS
What You'll Need
iron skillet (black, ten inches)
oven mitts
pan
unsalted butter (one pound)
steaks
watch or timer
spatula with a long handle
burner (barrel type)
Instructions
The burner must first be lit and set at high. Place the skillet above the fire facing down for a period of ten minutes. This will get it really hot. The butter must be melted. Place and the meat in it with both sides coated. The meat must be seasoned using the seasoning. Drip a small amount (around two drops) of the melted butter onto the pan. The pan is sufficiently hot enough if it sizzles, immediately evaporates and the remains become black.
Put half of the steaks onto the pan. Do not make a big deal about the smoke produced. After about fifteen seconds, flip the meat over. The other side must be cooked for about fifteen seconds. Take the steaks out of the pan. Cook what remains of the steaks similarly. The burner must be turned off and the pan allowed to cool down. Putting water on the pan might cause it to crack. Continue to finish cooking on a grill or oven and then serve.
HERB AND SPICE BLACKENED STEAKS (OWN BLACKENING MIX)
What You'll Need
½ teaspoon paprika
½ teaspoon salt
½ teaspoon red pepper
¾ teaspoon onion powder
¾ teaspoon black pepper
¾ teaspoon garlic powder
¼ teaspoon thyme
¼ teaspoon oregano
4 tablespoons butter (melted and unsalted)
4 pieces premium steaks
Instructions
Stir together the paprika, salt, red pepper, onion powder, garlic powder, black pepper, oregano and thyme.
Coat the premium steaks in the melted butter. Dip in the spice and herb mixture. Make sure to rub well.
Grill the meat for a period of ten minutes or continue to cook until done. You can use an extremely hot skillet or outdoor grill. A salad, some vegetables, fries or mashed potatoes are great sidings for the blackened steak. This is a great recipe to make an impact on people because they only venture to order similar blackened foot at fine restaurants and not make it by themselves.
Filed Under: Food & Cooking
About the Author: Leona Kesler is a head-chef at a very popular food restaurant in New York. Also she is a blogger who shares her experiences, tips, and other informative details about food and cooking. Her recipes are featured on many magazines.
Comments (0)