By Leona Kesler on Nov 11, 2010 with Comments 0
---
Little girls absolutely love fairies. A cake which evokes the image of Tinker Bell, accompanied with her friends of the Pixie Hollow, is perfect for fairy tea parties. One imaginative method to incorporate party favours with the cake is to decorate a cake that jives with the theme. Intricate decorating skill is not required to make this cake. This cake will be perfect for all fairy lovers.
WHAT YOU'LL NEED
Cake ingredients
Desired baking pans
Kits for cake decorating (with bags and tips)
Array of fairy dolls (small in size)
Icing
Gel food colouring
Decorator sugar (blue in colour)
Gel icing (blue in colour)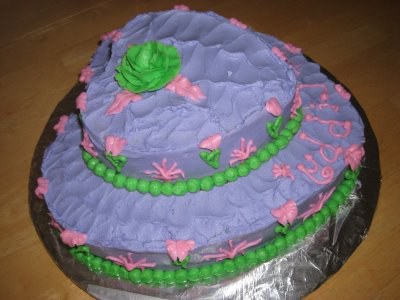 INSTRUCTIONS
Make a trip to your toy store. Select small sized fairy dolls such as Disney Fairies. This cake will be an image of Pixie Hollow. Ensure that you buy a sufficient number of dolls required for the cake so that every child who attends the party can bring one home as party favour. One can also look for other small fairies from other brands. One can even create their own tiny fairies with the use of embroidery floss, silk flowers and pipe cleaners.
Select a cake size that is fit for the party. An ideal design for this cake is one that is round and layered. Bake, fill and layer the cake. For optimum results, opt for a cake that is heavy and dense. The decorations will be heavy. The decorations and icing will hold a lot of weight and may end up crushing a rather light cake. Get hold of icing. This can be store bought or homemade. Homemade icing with buttercream flavour is ideal.
Frosting must be prepared. To create Tinker Bell's fairy home, one will need a minimum of two brown frosting shades and a minimum of two to three green shades. Pastel colours will work for the flowers. Combine the frosting in relatively small batches, together with larger quantities of the greens and the browns. A small quantity of the colour gravy will work to re-create the rocks that surround the "pond."
The whole cake must be frosted in frosting that is rich brown. Usually, chocolate will do especially if you desire to minimize the amount of food colouring utilized. However, opt to choose a lighter brown shade. Make use of the greens and the browns to design the enchanted forest and a big hollow tree in the centre. A deeper shade of brown may be used to build the tree's hollow. To create leaves, make use of a leaf tip. Evergreens and small shrubs can be created with a tip that is cross-shaped or grass along the tree's base. This also works for small colourful flowers.
Design a pond at the tree's base. Use gel icing and decorator sugar in the blue shade. Encircle the big tree with small flowers. Use colourful icing and flower tip for this. Use a tip that is round and small to trail vines on the sides and on the tree. Decorate with flowers and small frosting leaves to enhance your fairy cake.
On your Tinker Bell cake, put the small sized fairy dolls all throughout the fairy wood. Keep in mind that fairies have the capability to fly so they can be placed on the trees also. Little girls who love Disney fairies will surely remember this cake for a long time. For pixie dust, use edible gold and silver balls and decorating sugar.
Filed Under: Food & Cooking
About the Author: Leona Kesler is a head-chef at a very popular food restaurant in New York. Also she is a blogger who shares her experiences, tips, and other informative details about food and cooking. Her recipes are featured on many magazines.
Comments (0)