By Leona Kesler on Nov 04, 2010 with Comments 0
---
Making a novelty cake is a great way of adding fun to any gathering or party. You can make the cake in hundreds of different ways. By being a little creative and innovative, you can make simple cake into a wonderful surprise. Be it a kid's birthday party or a normal family dinner, everyone is going to all smiles when they see this cute ladybug cake.
WHAT YOU'LL NEED
sugar – 2 cups
shortening – 1 cup
strawberry jam
milk – 1 cup
baking powder – 3 tsp
flour – 1 ½ cups
vanilla extract – 1 tsp
licorice
icing
chocolate Oreos
cupcake
fondant
small marshmallows – 2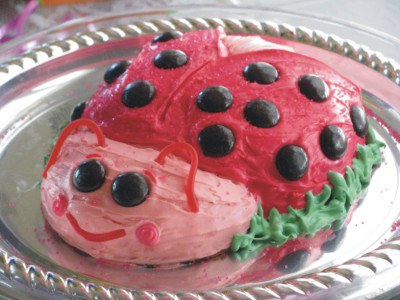 INSTRUCTIONS
You need to bake 2 plain vanilla cakes for this. The cakes should be around 8 inches in diameter. You can always use a mix for this. If you want to make the cakes yourself, you have to add the sugar, shortening, milk, baking powder, vanilla extract and flour in the abovementioned quantities in a baking bowl.
The mix has to then be placed in a greased pan. The cakes have to be baked at around 350 degrees Fahrenheit. The sure shot way to tell that your cakes are done is by putting a toothpick through their center. If the middle of the toothpick comes out without any residue of cake, the cake is done.
Once the cakes are done, you can take them out from the moulds and let them cool. Move on to the next step only when the cakes cool down.
Keep one of the cakes on a cake stand. Add some strawberry jam on top. You can also add vanilla frosting instead of the jam. Now put the second cake above the first. You may need to trim the layers in order for it to resemble the ladybug's body.
Take the red fondant and remove a strip that covers both the cakes completely. The edges should be covering the cake completely. Bright red icing also works instead of fondant.
Place a line of icing or fondant to divide the cake into 2 halves.
Now mark the ladybug's spots using the Oreos.
Finally you have to make the face. For this, you can either use a cupcake or some remaining cake. Use icing to get the facial features.
Black licorice is great for making the antennas.
Filed Under: Food & Cooking
About the Author: Leona Kesler is a head-chef at a very popular food restaurant in New York. Also she is a blogger who shares her experiences, tips, and other informative details about food and cooking. Her recipes are featured on many magazines.
Comments (0)