By Roberta Southworth on Sep 13, 2009 with Comments 0
---
Diaper Cakes are considered the most original and incredibly attractive gift useful for an expectant mother. Essentially, these diapers are disposable as the cloth is rolled and stacked together to resemble a traditional tiered cake. It can be a 1 or 2 or 3 tiered cake wherein the baby care must-haves or necessities such as bibs, diapers, blankets, bottles, toys, socks etc. are packed.
Highlight of Baby Showers
Over the past, diaper cakes can be the highlight of baby showers and they make the most popular gift for various reasons:
original and creative gift with a personal touch
Useful and helpful for new moms and moms-to-be
Cute and impressive gift for any baby party
Easy to make and can be decorated to match any theme
Inexpensive as one has the final say to choose the products that will go into the cake
Making the Diaper Cake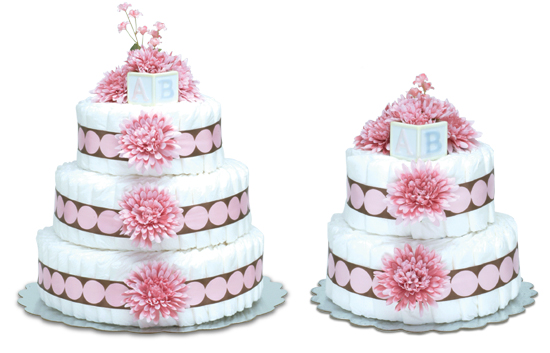 Choose a theme
Before starting with the shopping process, one will need to have a clear focus on the theme to assemble the cake. Few ideas on the theme include:
Choose a Color
Any pastel colors are perfect for a baby. Despite the fact that pink and blue represent a boy and girl color. Green, purple and yellow are neutral ones. An all white cake will be the most delicate and beautiful choice. Incase the sex of the baby is not known then the most appropriate decision would be to use neutral ones. Further if one is following a color scheme the items used to decorate the cake need to match the scheme. That is, it would be alright to use pink and white for girl or blue and yellow for boy. However one needs to be creative out here.
Choose a Centerpiece
Top is the centerpiece of the whole diaper. Here, one can choose all type of things to be placed at the top such as a stuffed animal, flower, baby doll, ship etc.
Shower theme
Based on the shower theme one can decorate the cake using the same color or print as on the top of the cake.
For Couple showers
For this it would be better to use a range of colors and not ones used for girly showers.
Ingredients or Materials used in a diaper cake
Package of size 1 or 2 diapers (Approx 85-100 for a 3 tier cake)
Rubber bands or curling ribbons to secure the diapers
Ribbons or beads/lace to decorate the outside layer of the cake
Binding tool –  sticky tape, sewing needles etc.
Sturdy core piece such as cardboard or metal strong enough to carry the weight
Wooden dowels to secure the layers of the cake
Filed Under: Family & Relationships
About the Author: Roberta Southworth is a psychiatrist by profession. She likes to help out people by writing informative tips on how people can to solve their family and relationship issues. She is currently staying in Ireland. She has 5 years of couple counseling experience.
Comments (0)