By Cody Riffel on Nov 04, 2010 with Comments 0
---
Halloween is one of those times when you can get really creative and come up with fantastic new objects that will really add on to the festive mood all around. No Halloween is complete without pumpkins! One of the most popular fairy tales is Cinderella. So, today we see how to make Cinderella's pumpkin carriage to add some magic and fun in your holiday.
WHAT YOU'LL NEED
cardboard
craft paper
a pair of scissors
glitter paint – gold
white glue along with glue gun
knife
1 short pumpkin
ice cream scoop – 1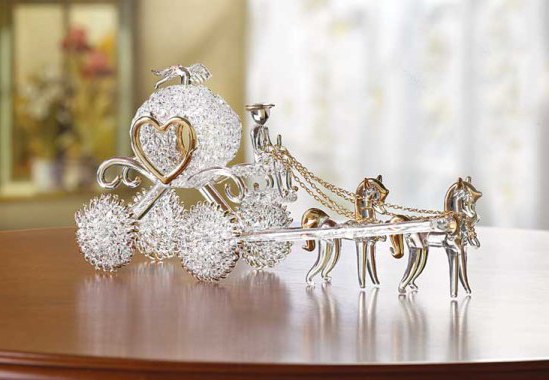 INSTRUCTIONS
Take stock of all the tools required for the project and gather them in one place before beginning to work.
Since we are going to start work with the carriage first, we have to define the pattern for the wheel. Draw 2 circles on a piece of paper. Keep the size almost the same as the size of the pumpkin. Cut these out. Using these 2 cut pieces of paper as stencils, mark 2 circles on a piece of cardboard and cut 2 pieces of cardboard; the same size as the circles from paper.
Use the glue to stick the circular pieces of paper to the cardboard. Using some rough paper or newspaper, the wheels should be painted white keeping the newspaper behind the wheels to prevent the extra spray on getting on the floor. Use your creativity to design the inner spokes and the rims of the 2 wheels. Remember to keep the wheels looking traditional so they resemble the wheels from the fairy tale. Gold is probably a good choice. You can even apply brown woolen string to the rims. Like I said earlier, get creative!
Now, focus your attention to the pumpkin. Cut out the top portion of the pumpkin so as to get all the stuff inside out. Clean it entirely from inside. Again, using your knife cut out a door and windows for the carriage. You have to be careful here; otherwise you will be running into multiple pumpkins very soon.
Now that the wheels are dry and the pumpkin has been prepared, you can join the wheels to the carriage by using tacks.
The carriage is more or less complete now. You can now use gold braids, faux diamonds etc. to give a more fairy tale look to the carriage. Sky is the limit here!
Filed Under: Arts & Entertainment
About the Author: Cody Riffel is a regular contributor to MegaHowTo. She likes to write on variety of topics, whatever interests her. She also likes to share what she learns over the Internet and her day-to-day life.
Comments (0)