By Justin Belden on Dec 29, 2009 with Comments 0
---
WordPress is an open source blog publication software. WordPress was originally developed by Matt Mullenweg, Ryan Boren and Donncha O Caoimh. WordPress is has gain popularity ever since its debut date. As of September 2009, there are over 200 million websites that are using WordPress. The latest WordPress version is WordPress 2.8.6 which was released in November 2009. WordPress was given a Packt Open Source CMS Award during 2007.
Before WordPress came into existence, there was b2/cafelog. As of May 2003, B2/cafelog have more than 2000 blogs. In 2003, Matt Mullenweg joined effort with Mike Little to create WordPress.
WordPress features a templating system with widgets and themes that can be installed without having to edit the CSS code. However, if you want to customize the theme, you can edit the CSS code in the WordPress code editor. WordPress allow you to tag each posts. You can also set the permalinks structure of the URL to include the name of your post instead of the generated URL so that it will be more SEO optimized. WordPress allows one administrator and multiple users. The administrator can give other users permission to post on the blog.
If you want to install WordPress through cPanel, follow the instructions below:
Procedure:
1.  On the homepage of your cPanel, click on the Fantastico icon. This will take you to the home page of Fantastico.
2.  Click on WordPress in the Blogs section on the left Navigation bar.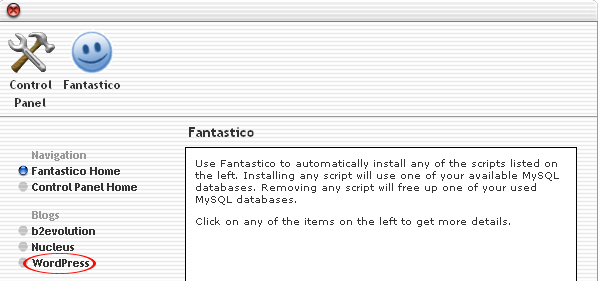 3.  Click on New Installation.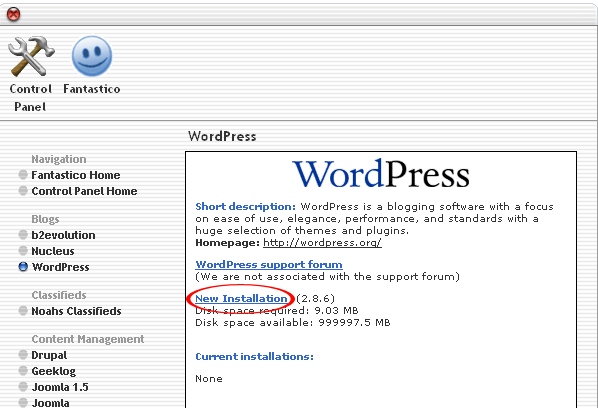 4.  Select the domain on which you want to install WordPress from the Install on domain drop down menu.
5.  If you want to install WordPress in the root directory of the domain, leave the Install in directory text box empty. If you want to install WordPress in a directory, enter the directory name. This directory should not be existed. It will be automatically created.
6.  Enter a username in the Administrator-username text box. You need this to enter the WordPress administration area.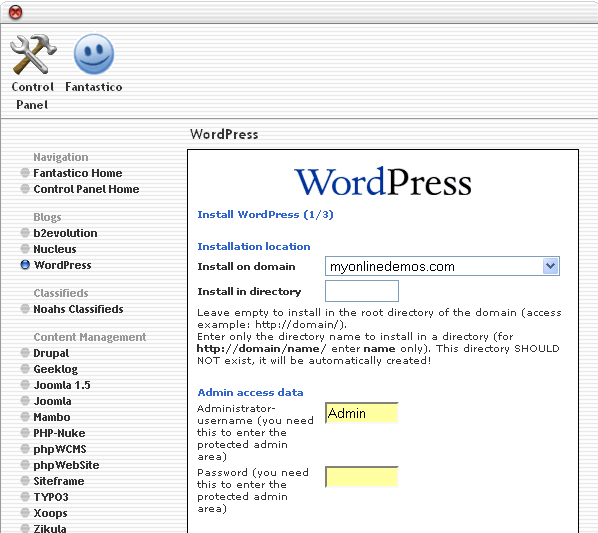 7.  Enter a password in the Password text box. You need this to enter the WordPress administration area.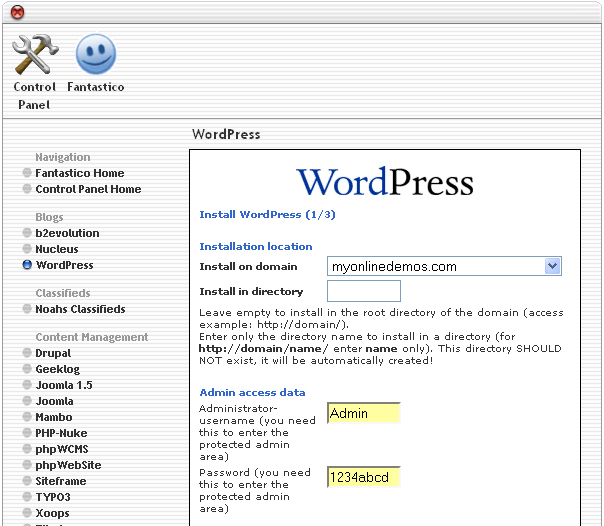 8.  Enter a nickname. This nickname will appear in every post that you will publish on your WordPress blog.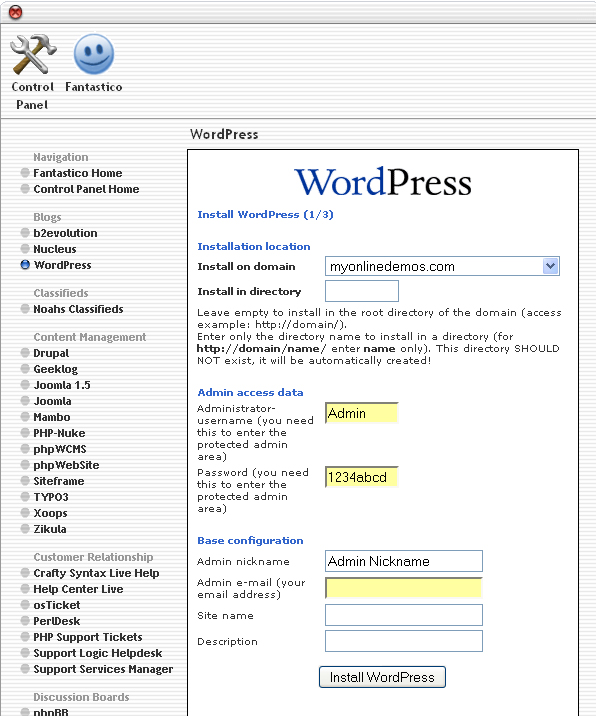 9.  Enter an email address. All WordPress notifications will be sent to this email address.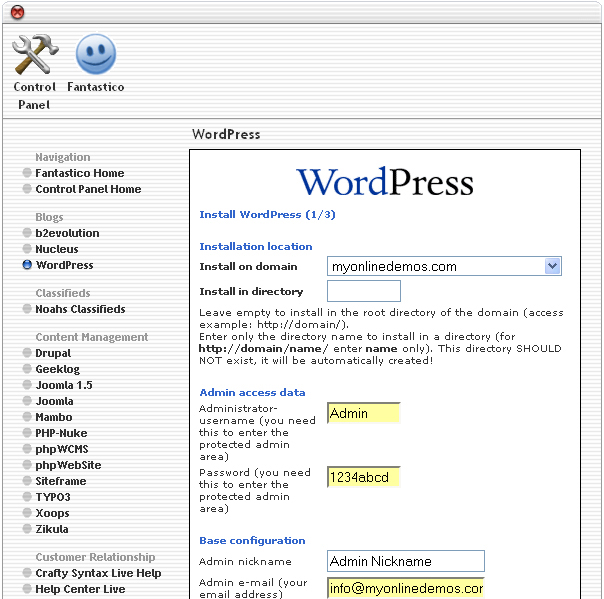 10. Enter a name for your new WordPress blog in the Site name text box.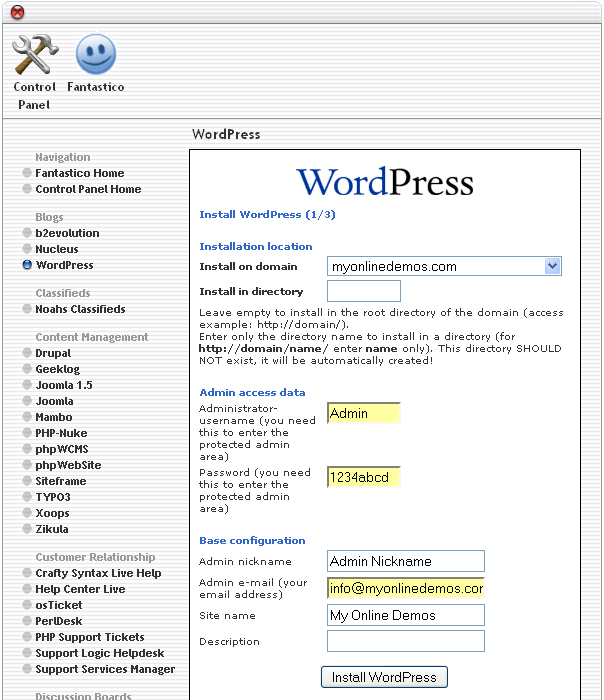 11. Enter a description for your new WordPress blog in the Description text box.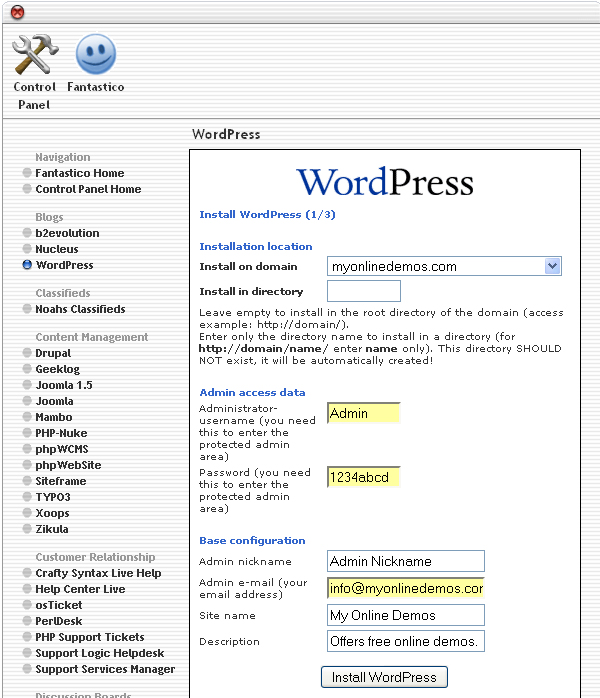 12. When you are done, click the Install WordPress button.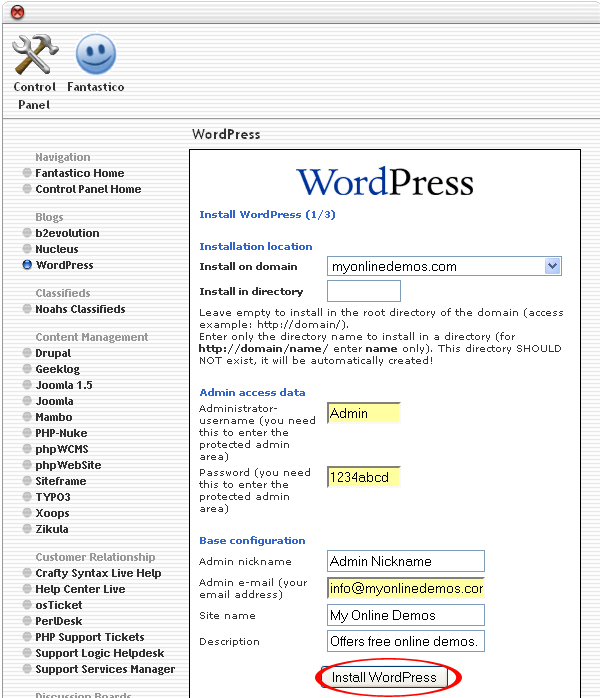 13. Click the Finish Installation button.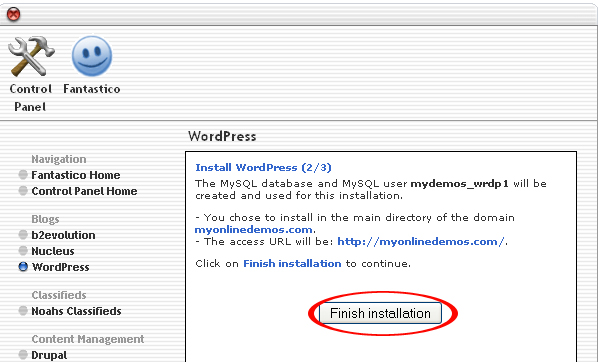 14. WordPress is successfully installed. You can now login to the WordPress admin dashboard and start posting.
If you follow the guidelines above, you will be able to install WordPress on your domain and start blogging immediately.
Filed Under: Computers & Technology
About the Author: Justin Belden is a freelance web & graphic designer with over 15 years' experience. He is also an Avid member of the Design/Development community and a Serial Blogger who loves to help people by sharing interesting and informative tips and trick related to computer and technology.
Comments (0)