By Justin Belden on Dec 29, 2009 with Comments 0
---
GnuPG Privacy Guard is free cryptographic software. GnuPG Privacy Guard is licensed under the GNU General Public License.  The developer of GnuPG Privacy Guard is GNU project. It was created by Werner Koch to replace PGP. GnuPG is can be used in RFC2440 compliant application. The first version of GnuPG was released on the 7th September, 1999. The second version of GnuPG Privacy Guard was released on the 13th November 2006.
The basic GnuPG program comes with a command line interface however there are also several front ends in order to have a graphical user interface. Instant messaging software including Psi and Fire will automatically secure a message if you have installed the GNUPG on your computer and configure it. Web based email reading application also support GnuPG. In 2005, G10 Code and Intevation debuted Gpg4win software suite so that GnuPG can be included in Windows, and WinPT. G10 code and Intevation also invented the GnuPG plugins for Windows Explorer and Outlook Explorer.
GnuPG encrypt a message with an asymmetric keypairs. The asymmetric keypairs are generated with an application by the GnuPG users. The GnuPG public keys can be exchange through an internet key server. When exchanging a GnuPG public key, make sure it is done carefully to prevent identity spoofing. You can also add a digital signature to the message to make sure that the recipient of the message is the particular correspondence.
GnuPG is not patented like the IDEA encryption algorithm. Because GnuPG is not patented, it can be freely with no restriction. You can use IDEA in GnuPG by downloading a plugin, however you may require a license if you are not living in the USA. GnuPG uses a variety of non patented algorithm such as CAST5, Blowfish, RIPEMD-160, ElGamal, MD5 and DSA.
To create a GnuPG key in cPanel, follow the instructions below:
Procedure:
On the homepage of your cPanel, click on the GnuPG Keys icon.

Enter your name in the Your Name text box.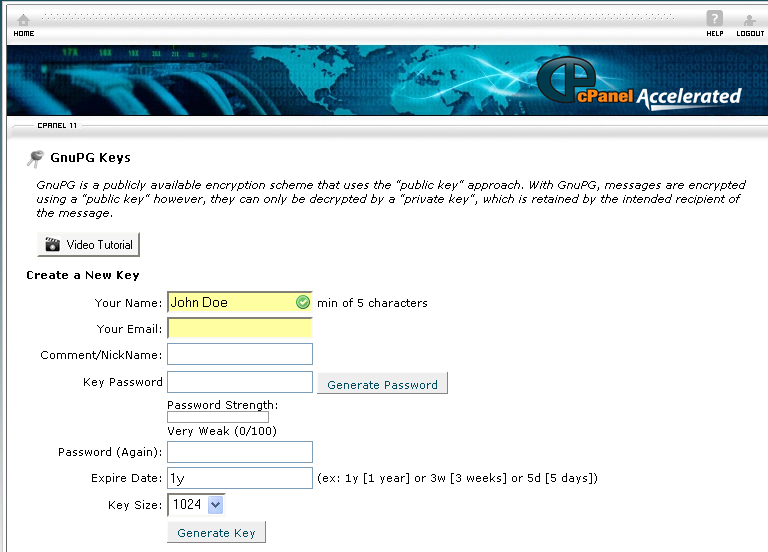 Enter your email address in the Your Email text box.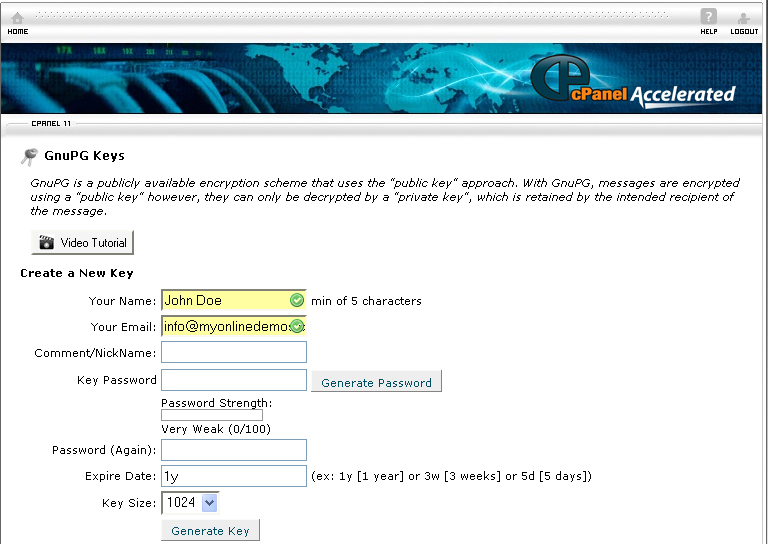 Enter your nickname in the Comment/NickName text box.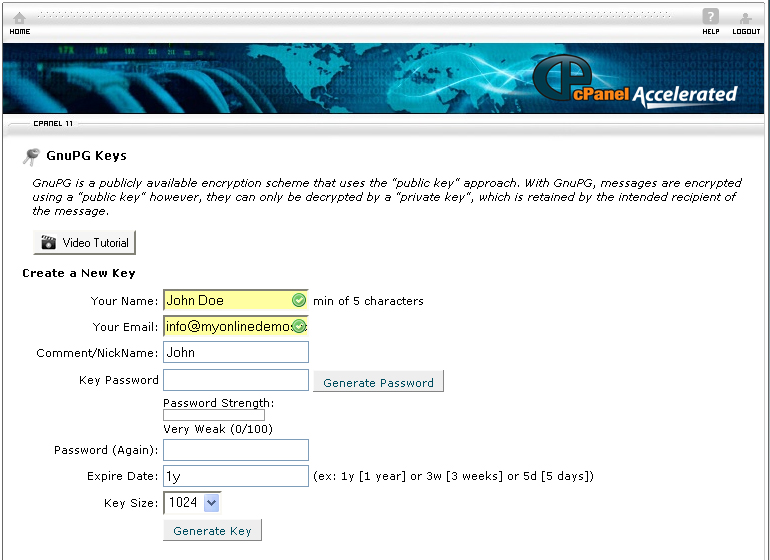 Enter the password to encrypt the message in the Key Password text box. If you want to use a generated password, click the Generate Password button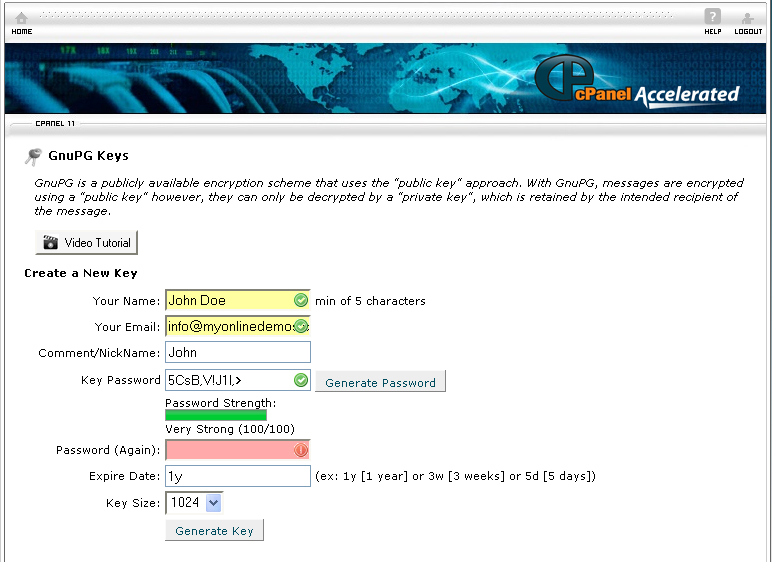 Reenter the password in the Password (Again) text box. The two passwords that you entered must be the same and match with each other.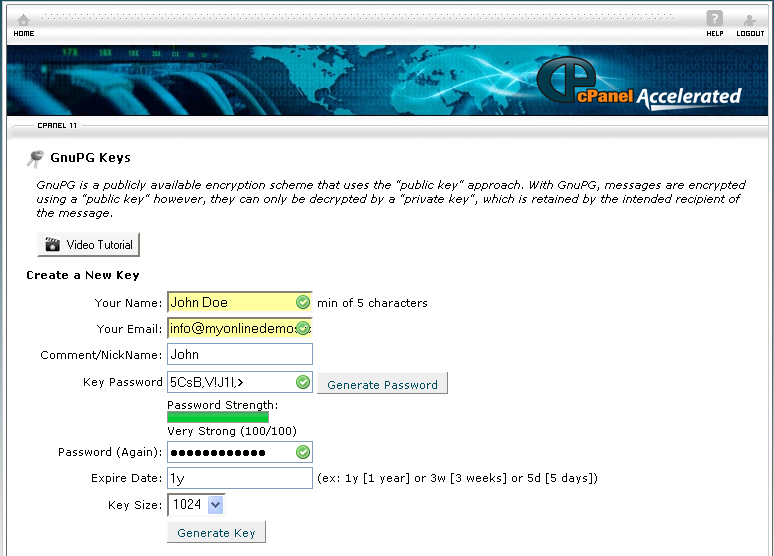 Enter the expiry date to unlock the encryption for the message. For example 1y (1 year) or 3w (3 weeks) or 5d (5 days).
Click on the Generate Key button.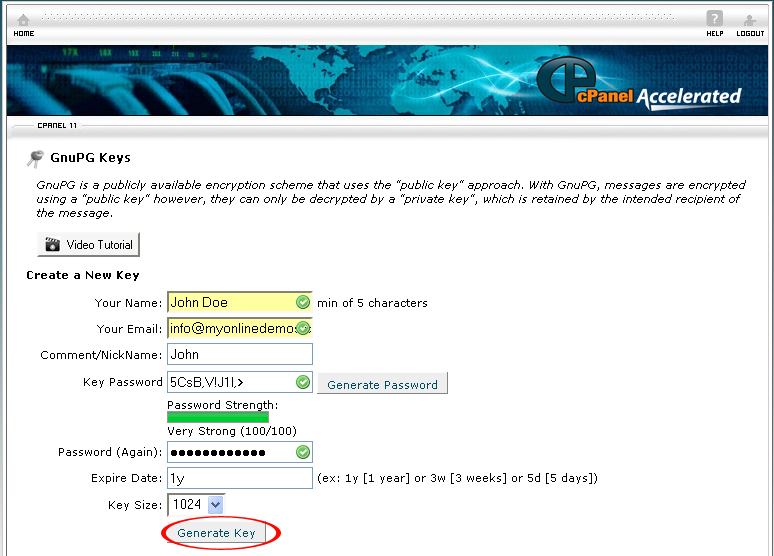 If you following the guidelines above, you will be able to generate a public GnuPG key.
Filed Under: Computers & Technology
About the Author: Justin Belden is a freelance web & graphic designer with over 15 years' experience. He is also an Avid member of the Design/Development community and a Serial Blogger who loves to help people by sharing interesting and informative tips and trick related to computer and technology.
Comments (0)