By Justin Belden on Dec 28, 2009 with Comments 0
---
TikiWiki is web based software that allows you to maintain your website project. Tiki can be easily installed on your website through Fantatisco in Cpanel. TikiWiki is suitable for build and maintain a wikis, discussion boards, and picture gallery. It can be used to make a map site just like Google Maps and Yahoo Maps. It can also be used to create a directory that lists all kinds of websites. TikiWiki can be used to make a social bookmarking site just like Digg.
TikiWiki gives many advantages to its users. It is free and licensed under GPL. It allows you to make all kind of websites such as poll website, blogs, news site, wikis, forums and static website. Smarty in TikiWiki allows you to customize it to your own needs. The Identity and Theme site allows you to adjust the theme of your website. TikiWiki is a popular web based CMS application. Tiki is compliant with many database including MySQL. The fine grained user permission in TikiWiki allows the administrator to give access to specific pages.
By default, TikiWiki display English language on its interface. TikiWiki supports more than 40 languages. To change to another lanuage, click on the i18n button. After that, select a language from the Default Language field and click Save.
To change the layout of your TikiWiki page, click Look & Feel on the administration page. Select a theme from the Theme drop down menu. After you are done, click Apply to change the theme of your website. You can also put your own logo on your website by filling in the URL of the logo image. The logo background, title and alt description can also be defined.
TikiWiki has been nominated, and received multiple awards. TikiWiki also has a forum community with more than 300 developers and contributors. There is also a Tiki documentation that has more than 1500 wiki pages.
If you want to install TikiWiki CMS/Groupware through cPanel, follow the instructions below:
Procedure:
On the homepage of your cPanel, click on the Fantastico icon. This will take you to the home page of Fantastico.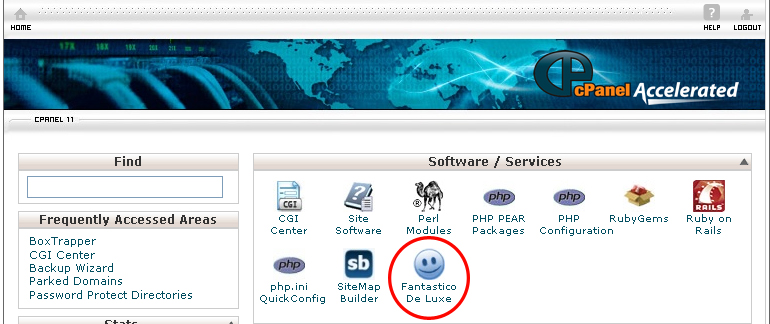 Click on TikiWiki CMS/Groupware in the Wiki section on the left Navigation bar.
Click on New Installation.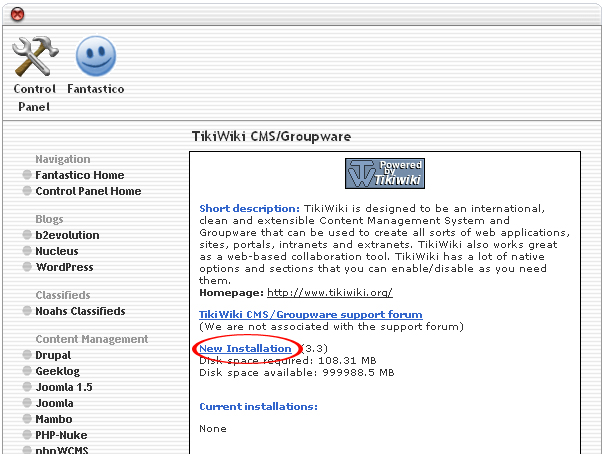 Select the domain from the drop down menu.
Enter the name of the directory where you want to install TikiWiki CMS/Groupware in the Install in directory textbox. If you want to install it on the homepage, leave the textbox empty.
The username and password are automatically filled so you don't have to fill in anything.
When you are done, click the Install TikiWiki CMS/Groupware button.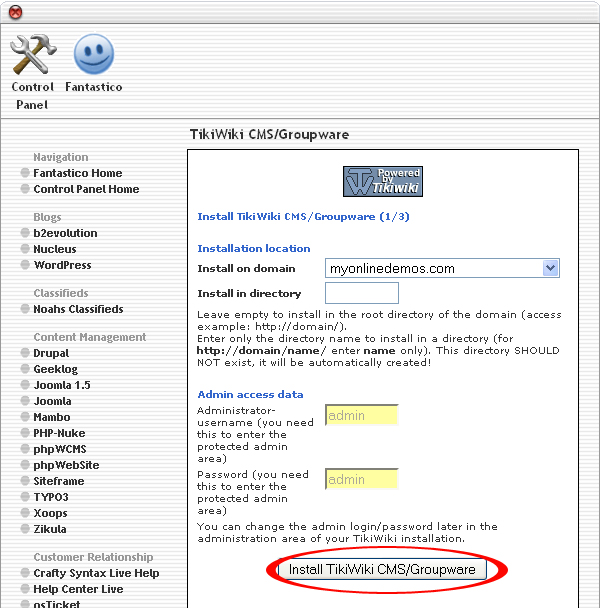 Click the Finish Installation button.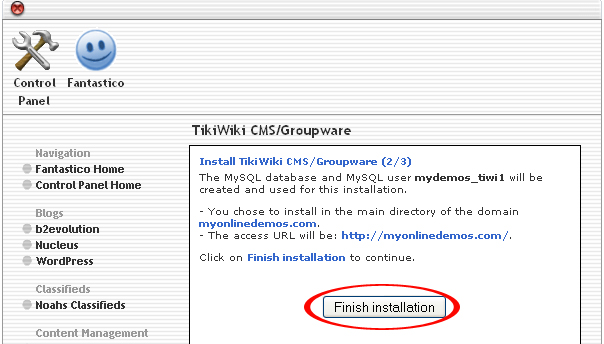 TikiWiki CMS/Groupware is now successfully installed.
By following the guide above, you will be able to install TikiWiki on your website through Fantastico in Cpanel.
Filed Under: Computers & Technology
About the Author: Justin Belden is a freelance web & graphic designer with over 15 years' experience. He is also an Avid member of the Design/Development community and a Serial Blogger who loves to help people by sharing interesting and informative tips and trick related to computer and technology.
Comments (0)