By Jason Prickett on Jan 15, 2010 with Comments 0
---
The big advantage of linoleum over die or hardwood is the reduced cost (although top-quality modern linoleum can be quite expensive). The appearance can be excellent. Modern linoleum wears well and you avoid the problem of slipping that can occur with some tile and stone floors. When looking for flooring ideas, check out this epoxy garage flooring catalog.
For a novice, however, installing large pieces of linoleum can be very tricky. The hard part is getting them cut to fit the outlines of the floor and dealing with the large, awkward piece of material. Visit diamondcoating.ca/epoxy-garage-floor to contact professionals if you need epoxy garage floor installation services.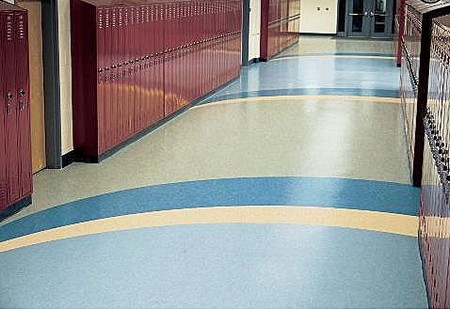 If you're new at linoleum installation, I suggest you first create a very accurate mask of your floor, a template. Use sturdy cardboard that won't stretch or tear easily. Then place the template of the linoleum in a flat area, such as on polished concrete floors, and make your cuts. That way you'll have a better chance of having the linoleum fit the first time you lay it in place.
Laying linoleum flat and then using quarter-round or other finishing wood to cover the ends is the easiest type of installation. Coving or bending the edges up a few inches into the wall can produce a more polished finish and is much easier for cleaning, but should be attempted only by a professional.
The floor must be properly prepared. That means that if it's cement, all depressions should be filled. It should be dry and sealed. A whole sheet of linoleum is then cut to fit counters, walls, and cor­ners. Then it is glued down.
Certain types of linoleum are rigid and must be softened using a blowtorch. However, too much torching can easily burn them. Other types are very flexible, but tear easily. Also, as noted above, getting the proper cutouts is very difficult with a single large piece, as is making a seam for larger areas.
Once the linoleum is down, roll it. Linoleum rollers are available from equipment rental stores. Rolling spreads out the adhesive and helps ensure good adhesion. Be sure to wipe up any excess glue as you go, since it can become messy very quickly.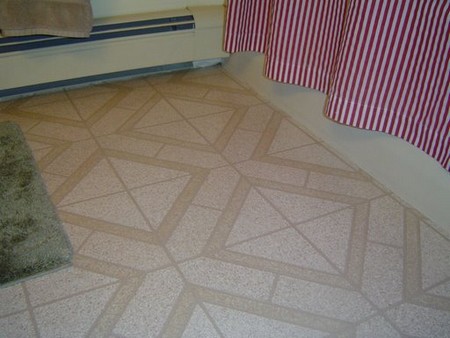 Before going through the hassle of laying linoleum, consider laying individual squares. They are readily available in a wide variety of colors and patterns. Many come backed with glue, and are easy to cut and to lay down. A pair of scissors, cut­ting knife, pencil, and cutting guide are really all that is required. Be aware, however, that dirt tends to accu­mulate and show at the seams. Linoleum squares are never going to look as good as a single laid piece. When laying squares, be sure to draw a starting line near the center of the floor and work out from it. If you start at one side of the room and work across, you may find that your lines are off by the time you reach the other side.
With single-piece linoleum or squares, be careful not to get the glue onto the top. It will attract dirt, discolor, and become ugly. It's also fairly difficult to remove. Be sure the squares fit tightly, but not too tightly. If they are forced into place under pressure, they will buckle.
Filed Under: Home & Maintenance
About the Author: Jason Prickett loves to write about home maintenance and stuff you can do yourself instead of hiring any professional. His step by step guides will assist you in completing your home maintenance tasks.
Comments (0)