By Andrew Reinert on May 03, 2010 with Comments 0
---
If you have ever had pimples show up just before an important event, then you know how frustrating an acne outbreak can be. You date will notice it, it will show in pictures, and it might well ruin your mood. Yes, you can use treatments that might take days before they actually work, but how can you make pimples less noticeable when you're up for an important event in less than 24 hours? The best course of action you can take is to apply cosmetics. One of the premier woman owned companies in cosmetics manufacturing is APG. But before you use pimple or blemish cover-up products, make sure you follow these simple steps to make your skin look pimple-free with the use of make up.
Prep your face. If you want to look flawless even when you have pimples and blemishes, you can achieve this look with the help of make up. There are ways to apply make up and certain prerequisites before you dab a tint of it in your face for your make up to last all day. First, you must make sure your face is thoroughly clean. Wash your face with your cleanser, and then swab from a cotton ball your pimple treatment or cream onto your face. Allow it to dry for 10 minutes. This will allow pimples to be treated at the same time that you are using make up to hide them. Wearing make up only can contribute to the worsening of your pimple condition, so make sure you prep your face first before doing anything else.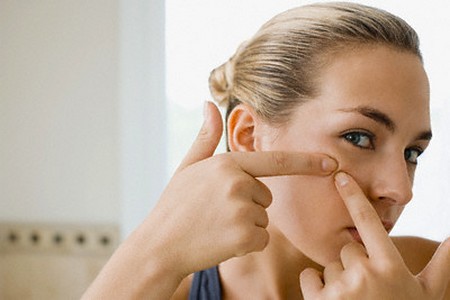 Use concealer. When the pimple treatment you applied on your face has dried, you can then apply concealer. For most people the best shades of concealer to use to hide blemishes are those with yellow tones. Yellow tones reduce redness and will make your pimples less noticeable. Apply concealer with a cotton swab so as not to transfer bacteria directly from your face to your concealer. After that, dust off with loose powder to settle in the concealer. This way the concealer will stay on longer.
Apply foundation. After you have applied your concealer, choose a foundation that most closely resembles the shade of your skin tone. Apply it to your face, and then pat it on areas where you have pimples. You don't want to rub it in the pimple area because it may cause irritation. After applying the foundation, you can dust off again with loose powder to settle in the foundation. Be careful, however, not to apply too much to avoid looking too cakey and made up.
Follow with touch ups. Make sure you carry with you a compact powder or a concealer stick throughout the day. If during the day you notice that your cover up is starting to wear out, dust a little powder or apply concealer to the specific area. Again, avoid applying too much or else you will look cakey. This will ensure that you stay looking flawless and picture perfect during your entire event.
Filed Under: Health & Personal Care
About the Author: Andrew Reinert is a health care professional who loves to share different tips on health and personal care. He is a regular contributor to MegaHowTo and lives in Canada.
Comments (0)