By Alan Kennon on Oct 18, 2010 with Comments 0
---
The fashion world offers all sorts of opportunities, but you rarely get second chances. You have to be a professional to make it and you have to start learning before you apply to shows such as America's Next Top Model or Make Me a Supermodel. You've probably noticed that the women who participate in such shows already have some modeling skills, so if you dream of becoming a supermodel you should take these first steps to kick-start your career. One of the first steps is visiting Flippa K sale to get some ideas on designs and more.
Look into the different modeling options and choose the one that best suits your body and style. The days in which only very tall, very thin models could get modeling jobs no longer exist, although television shows and magazines still promote the stereotype. Jobs exist for all types of models, be they thin or plus size, tall or petite. You need to find your specialty, train for it and go to casting calls looking for people like you.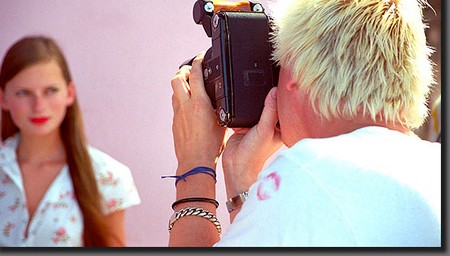 Take good care of your physical appearance. Having a balanced diet and exercising on a regular basis remain the best ways to keep a fit and maintain a beautiful body. Also take care of your skin, hair and nails, and strengthen your teeth up if necessary.
Build up a modeling portfolio. Find a professional photographer and discuss with him what you seek. Practice different poses and shoot pictures in different outfits and locations. Have professionals do your hair and make-up. Include a wide range of pictures in your portfolio so prospective employers can see your versatility.
Take modeling classes to learn how to walk, move and pose. Modeling agencies frequently offer this kind of classes, so look for one in your area. Remember that taking a class doesn't automatically get you a modeling contract, but it remains a useful step to get all the right skills.
Find a modeling agency or agent to represent you. They have more experience than you as well as more exposure, so they can get you jobs faster. It doesn't matter if at first you get small jobs; what's important is that you gain experience. Keep in mind some so-called "agencies" actually run scams or put all kinds of clauses in the contracts. Before signing anything, ask other people for advice, look for some information on the agency, and read the contract carefully.
Whether you get an agency to sign you or you work on your own, go to open calls. You never know when someone might notice you, and you could skip from an aspiring model to a supermodel. Even if you don't get the job, it's a great way of meeting a lot of people in the business and making connections.
Attend go-sees in order to meet designers in person and show them you are a fit for them. Every job you get will take you one step further in your career and potentially be the one that makes the difference between being a model and being a supermodel.
Filed Under: Lifestyle & Personality
About the Author: Alan Kennon lives a very happy life with two kids and a lovely wife. He likes to share his life time experiences with others about how they can improve their lifestyle and personality.
Comments (0)