By Leona Kesler on Feb 08, 2018 with Comments 0
---
You might find it fun to give actual cooking lessons. Sharing your knowledge and expertise in this art can prove fulfilling because you let others learn from you. The key to an actual cooking lesson's success lies in thorough preparation, thus ensuring the cooking demonstration proves effective and beneficial for both you and the students. Follow these tips to give successful cooking lessons.
Determine what you would like to share in the class, whether a basic technique and tips on how to make a familiar dish, your own special recipe or both. Anything that will help your class gain additional knowledge and tips will prove helpful to your students.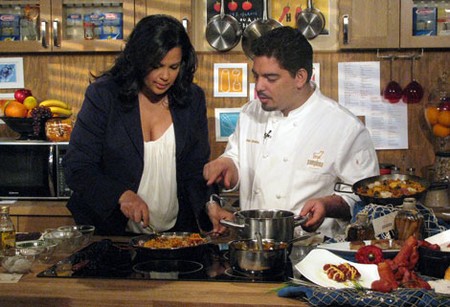 List all the things that you will need during the actual lesson. Record on a notepad everything your demonstration will require, from the most important thing down to the last detail. This helps ensure your class will not fall prey to distractions should you suddenly need something during the actual cooking lesson. It will make the process of preparation more organized and less stressful.
Once you have decided what to cook during your class, make a list of all the ingredients you will need. This will also save your time during preparation. Listing down the items you need to buy will help you not forget the important items for your demonstration.
Buy and gather all necessary equipment and ingredients you will need. You should have enough ingredients for the recipe you will actually use for your demonstration and enough for the class to use for them to practice what you taught them. Your demonstration will prove more effective if the class experiences the actual process of what you share.
Prior to the actual class, you might need to practice the actual cooking yourself to ensure you do it right during your demonstration. You will likely find the use of notes or note cards helpful, as you might want to write down some reminders. You may want to make some alterations in your preparation to make your presentation as perfect as you can. You should also check to see if you might have missed something from the list of things you need.
Execute your cooking lesson or demonstration confidently. Many people appear uncomfortable speaking in public. However, enough preparation and practice will do the trick for you to overcome fear.
Evaluate your demonstration so you can recognize the areas that need improvement. It will help you plan better and prepare if you decide to teach cooking lessons again. Assessing what went well and what went wrong will make your actual cooking lessons even more effective and meaningful the next time. This will also assist you in determining your opportunities.
Filed Under: Food & Cooking
About the Author: Leona Kesler is a head-chef at a very popular food restaurant in New York. Also she is a blogger who shares her experiences, tips, and other informative details about food and cooking. Her recipes are featured on many magazines.
Comments (0)