By Alan Kennon on Feb 07, 2018 with Comments 0
---
The main objective of a resume remains to highlight all related work experience in the job for which you apply. Creating an impressive resume for a chef or assistant chef's position in the food industry or establishment should emphasize the special skills and experiences as well as the potential an applicant can bring to the restaurant. Creating an impressive resume remains the first step in applying for the job of your dream. It should show a well-organized presentation. These tips can help you prepare your resume.
When preparing to create your resume, list all your work related experiences. This includes your job titles along with your job descriptions and responsibilities such as food and supply ordering, menu planning, professional training and mastery of specialty cuisines, recipe development, running a kitchen, setting up a catering program, staff supervision,. List also the dates and name of the restaurants at which you worked.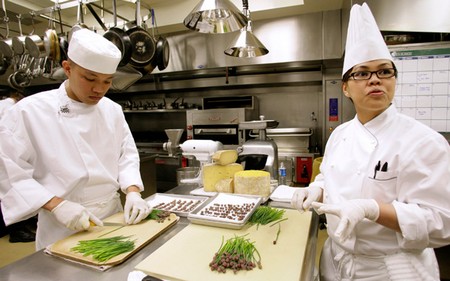 Categorize the content of your resume in a way your employer or hiring manager can easily see and read your qualifications. Clear headings like "Experience," "Objective," "Professional Training and Education," and "Summary of Qualifications" make for an impressive and thorough resume.
Type your contact information (including mailing address, email address and phone number) and name in bold at the resume's top, using a clean and easy-to-read font. This will provide the employer with easy reference just in case they need to contact you. Writing this information boldly will help the hiring manager remember your name.
You should make your Objective clear and precise. It should indicate the specific restaurant management or kitchen job you want, including your ultimate institutional setting goal. Your statement under this category will show employers you have a career goal and thought about it carefully. It will also determine the direction you set as a chef and what you would like to contribute.
The Summary of Qualifications category should function as the highlight of your resume. You must include every detail of your work-related experiences. Highlight it with bullet points for quick assessment. This will tell the owner, hiring or human resources manager about your professional experience as a chef and your development, entrepreneurial advancement and imagination in developing a restaurant. Most hiring personnel spend more time studying an applicant's qualifications and credibility.
Under Experience, list all your restaurant jobs in chronological order—but in reverse, with the most recent coming first. Include a statement that exhibits your growing responsibilities and skills. Work experience shows how adept and prepared you are for this job.
In the Personal Training and Education category, ensure you include all your academic training. This includes the dates, culinary school or other institutions and cooking programs you attended, and any specialized areas of training. Incorporate as well all your certifications and affiliated culinary program experience.
Filed Under: Lifestyle & Personality
About the Author: Alan Kennon lives a very happy life with two kids and a lovely wife. He likes to share his life time experiences with others about how they can improve their lifestyle and personality.
Comments (0)