By Andrew Reinert on Jun 15, 2010 with Comments 0
---
Genetics, hormonal changes and poor hygiene can cause acne. Few things are worse than having a breakout before an important event or occasion. Many products promise to improve acne conditions, and while some deliver fast and effective results, others may worsen the acne condition.
Do not prick the pimple. It might be tempting, but pricking the pimple will only worsen the situation. When you prick a pimple improperly, it will leave marks that might be very hard to fade. Additionally, bacteria from the pricked pimple might spread across other areas of the skin.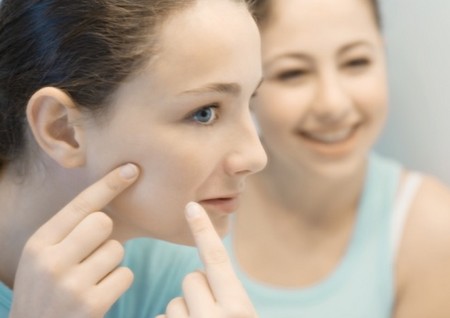 Apply ice to the pimple for two minutes. The ice will decrease the size and redness of the pimple. This is advisable if you have an important occasion to attend.
Wash your face in the morning and especially at night. You can use a facial cleanser that is made for acne prone skin and you can also use a treatment for chin acne. If you use make up within the day, do not go to bed without removing it and washing your face thoroughly. Sleeping with make up on will only worsen your acne problem.
Do not touch your face. You might be subconsciously used to touching your face. But bear in mind that your hands carry a lot of bacteria that can cause pimples. Before touching your face make sure that your hands are clean. Wash them or apply an anti bacterial alcohol.
Apply a topical medication for acne. You can use products that have benzoyl peroxide, salicylic acid or sulfur, all of which will help dry out your pimples. Apply them only to the areas with pimples since they can dry your skin quickly. Whenever acne starts to appear, you can use vegan acne pads which will prevent acne from spreading across your face.
Steam your face once a week. You can go to a clinic or do it yourself at home. Pour hot water in a basin and lower your face near the steam. Cover your head with a towel to trap the steam. This will open the pores, making it even easier to clean out residue and dirt that trapped inside.
Eat foods rich in Vitamin A. Foods including carrots, broccoli and sweet potatoes have acutane, which is beneficial for treating acne. You can also take vitamin A supplements, but opting to eat foods rich in vitamin A is more beneficial.
Use garlic. Crush a bulb of garlic, then gently rub it on your pimple. Garlic has an anti-bacterial property that can get rid of the bacteria causing acne on your skin.
Drink plenty of water. Water flushes out toxins found in your body. It is important to flush out these toxins because they contribute to acne problems.
For those who are struggling to find answers to the question of how to reduce acne scars, there is cause for great optimism. Some cosmetic dermatologists from sites like https://cincinnatiskinandlaser.com/ are using the very latest technologies to effectively administer acne scar treatment.
Filed Under: Health & Personal Care
About the Author: Andrew Reinert is a health care professional who loves to share different tips on health and personal care. He is a regular contributor to MegaHowTo and lives in Canada.
Comments (0)