By Cody Riffel on Aug 05, 2010 with Comments 0
---
Paintball ball was invented in 1981 and it was played for the first time in New Hampshire. This game can be played solo or in groups. You can choose the way you want to play this game. The objective of this game is to eliminate to opponents by hitting them with the paintballs. The following points will direct you how to prepare for a game of Paintball.
Procedure:
Paintball can cause injuries to the player's body, so the player must acquire the protective gear necessary for the game. This gear can keep the player from smarting blows from the rival player. The following is the list of items suggested to be worn during a paintball game.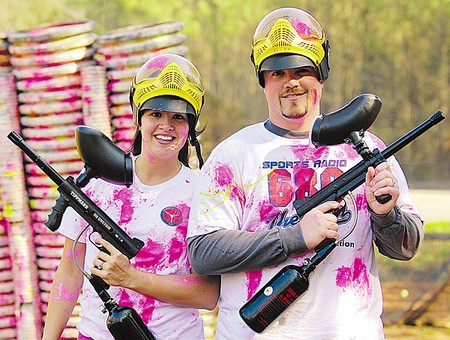 Mask. It is compulsory piece of equipment to wear all times on the field as it protects the eyes, ears, nose and mouth by completely covering them. Player may find neck shields and throat guard necessary to protect him.
Gloves. It is optional and used to lessen the smarting blows of paintball received from rival player.
Chest guard.  Like the gloves, it is also optional. But it is recommended for women and players under age of 18 to wear.
Specialized pants and shirts. These are clothes with built-in protective material to reduce the smarting blows of paintball received from the opponent.
You can even use goggles as an alternative to masks but it is suggested to use protective material to keep your neck from the injuries. You can even use dark-colored clothes instead of pricy paintball clothes.
Get the paintballs and the paintball markers because it is not possible to play this game without them. Paintball marker, also known as Paintball gun, is a gas powered device used for shooting the paintballs. Paintballs are the ammunition for the Paintball marker. Buy thousand paintballs in a pod so you may not run out of them during the game. Try to look for the best electronic paintball marker while buying to ensure that you obtain the one which is comfortable to play with.
3  Paintballs are forced out of the paintball marker making the use of compressed gases. There are two types of propellants used in paintball game and that are Carbon Dioxide and Nitrogen Propellants. Carbon Dioxide is cheaper and finding it and refilling is also easier. That is why it is used by many players. But for more accurate shots Nitrogen Propellant is suggested.
Put on the protective equipment; load the paintballs into the marker, slide your paintball propellant, and now you are prepared to play paintball.
Filed Under: Sports & Fitness
About the Author: Cody Riffel is a regular contributor to MegaHowTo. She likes to write on variety of topics, whatever interests her. She also likes to share what she learns over the Internet and her day-to-day life.
Comments (0)