By Justin Belden on Jul 30, 2010 with Comments 0
---
The hard drive of a computer that runs on Windows XP OS could be formatted using its own interface or by using the command prompt. As command prompt, an interface that is using command line, you cannot use a mouse and there will be no Windows. You must type the commands by entering the exact text. There are various procedures to follow when you do this.
There are a couple of ways to access command prompt. First one is to use the Windows XP CD Rom, boot the computer and go to command prompt from there. Insert the CD in the CD Rom drive and select the command prompt or you can select MS DOS interface. You will end up at the command prompt. Another way is to select the "Run" option and typing "cmd". Then click on OK or press enter. This also will take you to command prompt.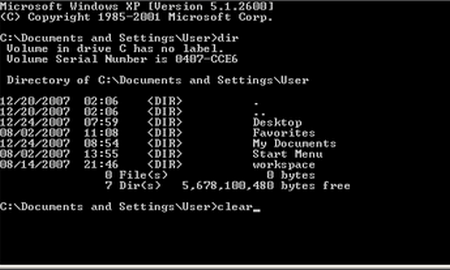 Format(C) is the command to format hard disk. In case, you need to format another volume, you must enter the corresponding letter – D, E etc. These commands indicate other things to be performed in the process of formatting the disc. The command that specifies the file system to be used in formatting is "/fs: (file system)". The file system could be any one of the three file systems used; FAT, FAT32 or NTFS. In case you need to format the root C drive on the NTFS file system, the command you must enter is 'Format C:/fs:ntfs'. If you need to go for quick formatting, you can give the '/q' command. It is just a case of adding it to command line and then the command will look like 'FormatC:/fs:ntfs/q'. Remember to leave a space between each of the commands. If you miss this point, syntax errors will not let you proceed and the computer will not understand your commands.
When you format a hard disc or any other storage device, all data in it will be erased and lost. So normally you format a hard disc only before you install the operating system or when you need to reinstall it, due to some reason. When you need to install the operating system, store all your data in the particular storage device before starting with it. You can store it in a removable drive such as a flash drive or writable CDs or DVDs. Now insert the Windows installer disc in the CD Rom drive and the auto run program will pop up. Follow instructions and you will end up with a fresh installation. Finally copy the data which is backed up and you are done.
Further Readings:
Filed Under: Computers & Technology
About the Author: Justin Belden is a freelance web & graphic designer with over 15 years' experience. He is also an Avid member of the Design/Development community and a Serial Blogger who loves to help people by sharing interesting and informative tips and trick related to computer and technology.
Comments (0)