By Justin Belden on Jul 30, 2010 with Comments 0
---
If there is a virus or malicious program's attack in our system, it will lead to malfunctioning of the system. It will stop responding to commands. Here are few steps in Windows and Mac OS to foerce a program to close.
Windows
When shutting down the Windows XP PC, sometimes the Windows computer will not shutdown itself due to Windows waiting for certain tasks or processes which has not responding, or already frozen or hanged to time out. In this case, Windows will prompt a dialog box that mentions "This Program has stopped responding" and giving users the option to End Task or wait to allow more time Windows to terminate the program or task.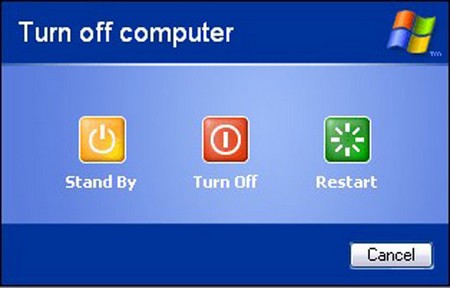 The cause for problem is because the Windows will try to properly and gracefully terminate all running processes, tasks and programs before shutting down the Windows. If Windows kernel unable to terminate a not responding or hanged programs, then Windows will wait until time out, and ask the user whether to end the frozen task or continue to wait for the process to respond.
If you don't want to wait for default time out and want to force exit or force close any unresponsive programs automatically, just follow the steps below.
Click CTRL+ALT+DEL on your keyboard
Click TASK MANAGER
Click APPLICATIONS tab
Highlight program you want to close and click END NOW
Mac OS
Keyboard method
Alt/Option key is located at the bottom left of your keyboard. Select the application you want to force quit from the "Force Quit" window that pops up. If the program has crashed, it will typically say "not responding" next to it in this menu. Click the button that says "Force Quit".
Mouse method
Direct your mouse to the apple icon in the top left of your screen. Scroll down to "Force Quit" and close the application which is not responding.
Dock Method. Use a two button mouse such as the Mighty Mouse or a third-party two button mouse. Right click on the application's icon in the Dock and hold Option. This will display a Force Quit option. If you don't have a two button mouse, instead of right clicking, clicking and holding works too.
Before you click "Force Quit", double check that the application still frozen. Sometimes the application un-freezes while you bring up  "Force Quit" window. It is not possible to force quit Finder. If you select Finder, "Force Quit" button will say "Relaunch".
To force quit the application without opening the force quit window, just press Shift with the other buttons (Command+Option+Shift+Esc) and hold for about 5 seconds. This will close the currently active application.
Further Readings:
Filed Under: Computers & Technology
About the Author: Justin Belden is a freelance web & graphic designer with over 15 years' experience. He is also an Avid member of the Design/Development community and a Serial Blogger who loves to help people by sharing interesting and informative tips and trick related to computer and technology.
Comments (0)