By Bruno Silva on Nov 09, 2010 with Comments 0
---
Drinking wine moderately can have a positive effect on your health. The saying goes that eating an apple a day keeps the doctor away; similarly, drinking a glass or two of red wine each day will promote good health. For instance, it's good for the heart, can improve your memory, assists in developing healthy bones, promotes weight loss and can even prevent cancer. When you feel stressed out and tired from a day of pressure at work, drinking red wine can help you relax you since it helps with blood circulation and promotes feelings of calmness.
Choose a food that will bring out the good tastes of the wine. Normally red wines go best with red meats such as beef. On the other hand, white wine goes fabulously with seafood such as lobster and crab as well as chicken meat. But to fully enjoy your wine delivery, the food should pass your taste. You may also consult a wine guide or check out a culinary book to learn more about food that goes well with your wine.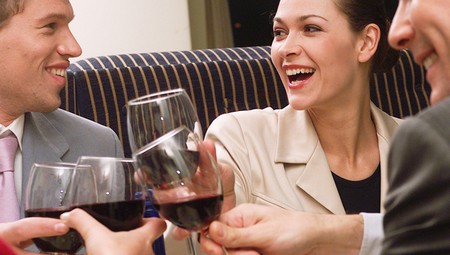 You should serve red wine at room temperature to help it retain its original texture. Store red and white wine at 63 and 53 degrees Fahrenheit, respectively. You can also buy a portable cellar or container for wine storage to keep it in a good state.
Different kinds of glass wine and their designs have distinctive roles to bring out the true taste of your favorite wine. Red wine glasses usually have a bowl-like shape to make room for the air to get in to bring out its flavor and aroma. Hold your wine glass by its stem so your hand will not warn the wine. If you don't want to get confused when choosing among so many different wine glass types, buy a piece of your own that measure 5.5 inches tall.
If you choose or buy an old wine, practice the process of decanting before drinking it. To decant a wine, pour it from the bottle to another container so you won't accidentally drink any sediment due to prolonged storage. You can also do this with wines that are not so old. Often referred to "letting the wine breathe," decanting requires you to keep a decanter ready at home.
When you have everything ready, enjoy the taste of your favorite wine and drink it like a pro while you smell the pleasant aroma that accompanies it.
Filed Under: General How To's
About the Author: Bruno Silva is an entrepreneur from Portugal with over 15 years of experience in Online Marketing. He is also a blogger and writes on variety of topics from online marketing to designs, cars to loans, etc.
Comments (0)