By Carl Tackett on Apr 27, 2010 with Comments 0
---
In Gaelic, Glasgow is Glas-ghu, which means 'dear green place'. And with more than 70 parks and gardens within the boundaries of the city, Glasgow certainly lives up to its name.
The 361-acre Pollok Country Park has magnificent wood­land and shrubs, beautiful rhododendrons, magnolias, azaleas and Japanese maples, and a fine herd of Highland cattle.
Victoria Park should be another stop on your itinerary. It boasts a wide range of formal floral displays, carpet bedding and hollies- Here you will find a pond, children's play areas and the renowned Fossil Grove with its tree stumps that are an amazing 300 million years old.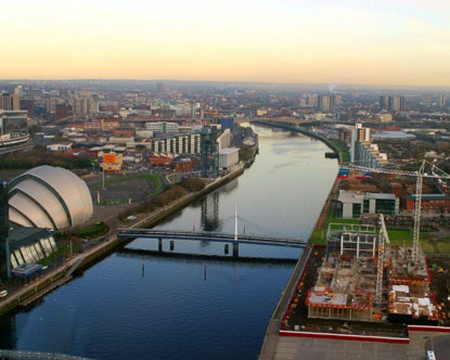 The Botanic Gardens, with their famous range of glass houses, are a major tourist attraction. They are also a centre of education, conservation and research. The main glasshouse contains a fascinating collection of tropical plants, including begonias, orchids and ferns.
Finally, don't forget Kelvingrove Park's 85 acres, which were laid out in 1852. These feature commemorative statues, fountains and a fine herbaceous border.
Glasgow and its surrounding areas are a treat for walkers and cyclists. The Merchant City Trail takes you through the dynamic 'Old Town' of Glasgow, which was originally home to Glasgow's 18th-century tobacco lords. And the Kelvin Walkway takes you through Kelvingrove Park to the city's leafy west end. It follows the River Kelvin northwest through Kelvindale to Dawsholm Park.
If you prefer a longer route through the countryside, some start from the city itself. For example, the Clyde Coast Cycle Route winds through some of Glasgow's beautiful parks and closely follows the old Paisley and Ardrossan Canal before heading out to Greenock, Irvine and Ardrossan. Another route links the city centre 'o the Falls of Clyde at Lanark via the scenic Clyde Valley.
If you're feeling adventurous, why not try the route from the centre of Glasgow out to Loch Lomond, where you can begin your journey in the bustle of city life and end by marvelling over the haunting beauty and tranquillity of this beautiful loch? If you enjoy a really long trek, you can even continue onwards towards Balquhidder in the heart of the Scottish Highlands, following forest trails, peaceful rural side roads, disused railway tracks and canal towpaths.
These are just a few of the many walks and cycle paths that are accessible to the public. There are many others, which take in beautiful coastal scenes, breathtaking views, ancient monuments sites of special scientific interest and forest trails, as well as Celtic medieval and industrial landmarks. The local tourist information centre will be able to give you details of walks and cycle routes for all ages and abilities.
The RSPB Nature Reserve at Lochwinnoch will delight nature lovers. It has a superb mixture of open water, woodland and marsh, where you can observe a fascinating variety of interesting wildlife close at hand.
Going back to the city itself, Glasgow has over 20 museums and art galleries, and almost all of them are free. The impressive line-up of museums includes the internationally acclaimed Burrell Collection, which contains over 8,000 art objects collected by the Glasgow shipping magnate Sir William Burrell, and Scotland's oldest public museum, the Hunterian Museum, which was founded by William Hunter (1728-83), physician to Queen Charlotte. This museum has some fine displays, including coins, dinosaurs, gems and Roman archaeology. The Hunterian Museum has recently been undergoing a programme of renovation works, so you should check that the museum is open before setting out.
The Art Gallery and Museum at Kelvingrove is another popular free attraction and has over a million visitors a year. It houses one of the finest civic collections in Britain. Displays include arms and armour, natural history, archaeology and fine art. It has also been undergoing a programme of renovation works recently so, as with all venues, make sure it is open before you go there.
Another gallery not to miss is the cool and contemporary Gallery of Modern Art, which houses four floors of today's finest paintings and sculptures, and installations from around the world.
And don't forget to visit the award-winning Hunterian Art Gallery. This presents an art collection that includes one of the most important print collections in Scotland, and attracts visitors from around the world (remember to check that it is open before you set off).
Also worth a visit are the refurbished galleries of the People's palace, which bring the story of Glasgow and its people to life, explaining their impact on the world from 1750 to the present day. If you have time, try to visit the Provand's Lordship, the oldest house in Glasgow, which dates from 1471. It contains period furniture and features a medieval theme garden in its grounds.
For book-lovers, the Mitchell Library will be an essential place to visit. It was founded in 1 874 and is Europe's largest public reference library. It contains over 1.5 million volumes and an impressive array of literature on the history and culture of Glasgow and Scotland. Another important place to visit is the Centre for Contemporary Arts. This features exhibitions that embrace all contemporary art forms, including visual art, music, film, performance, dance and the spoken word. There is a charge for films and talks, but the exhibitions are free.
Glasgow also has some fine architecture from different periods, especially the Victorian era. You should also take a trip to St Andrew's in the Square, which is a beautiful example of a fine 18th-cenrury church. It has been restored recently and is considered to be an architectural gem. In the basement you'll find a warm and intimate cafe, which hosts regular free events, such as jazz concerts and Scottish folk singing.
Visiting Glasgow and its surrounding areas is always an eventful experience, with live performances, festivals and entertainment all year round. The annual fireworks display in November on Glasgow Green is a spectacular event, with fireworks, lasers, DJs, "ve music and lots of entertainment for all the family. The Great Scottish Run – Glasgow's half marathon – is always an exciting event each September, with lots of fun and entertainment, including inflatable activities, sports events, and live music. Another event not to miss in September is Doors Open Days, which provides an annual opportunity to see inside some of Scotland's architecturally and historically significant buildings – like the other events listed here, it is free of charge.
Lanark Lanimer Day, meanwhile, provides an enjoyable village carnival experience, with a variety of stalls and lots to see and do. This is where the old Burgh boundaries (dating back to 1140) are checked and the Lanimer Queen is crowned. Paisley also has its own major outdoor free event – Sma' Shot Day – which celebrates Paisley's proud weaving traditions. And the West End Festival should be at the top of your list for midsummer celebrations, with the magic of the Carnival Parade and free events in the parks.
This feast of free events would not be complete, however, without mentioning one of the most famous events of the year: Glasgow's Hogmanay (New Year's Eve) celebrations.
Seeing in the New Year in Glasgow is a truly memorable experience. You can start by celebrating with an atmospheric street party and bonfire in Biggar High Street – a traditional pagan event that is as popular as ever – then enjoy the live music and street entertainment that goes on around the city.
These are just a few of the many free events in and around Glasgow. There are many others, especially one-off events, so to keep up to date on what is going on, contact the local tourist information centre.
Filed Under: Uncategorized
About the Author: Carl Tackett is a travel enthusiast. He has traveled to over 50 destinations all over the world. Currently, he is residing in England. He loves to write about traveling and helping fellow travelers.
Comments (0)