By Carl Tackett on Apr 27, 2010 with Comments 1
---
This huge and fascinating city is well known for being expensive, but it is absolutely full of things you can do for free. In fact, there are so many that Harden's Guides have produced a book on them called London For Free. This immensely useful guide has over 160 pages packed with helpful information on beautiful parks, ancient wood­lands, famous museums and galleries, spectacular events, memorable entertainments and many other free attractions. It also includes some very helpful maps and reviews. It is available from bookshops or direct from Harden's. Whatever your age or interests, whether you are a local resident or a visitor, you don't need to part with a penny to enjoy yourself in this great city.
Why not start with a Walk by the lake through beautiful St James's Park, with its many species of colourful birds and equally exotic tourists? If you time your walk through the park to arrive at Buckingham Palace a little after 11 am, you will be able to see the Changing the Guard ceremony, which takes place daily between April and October, and every other day between November and March.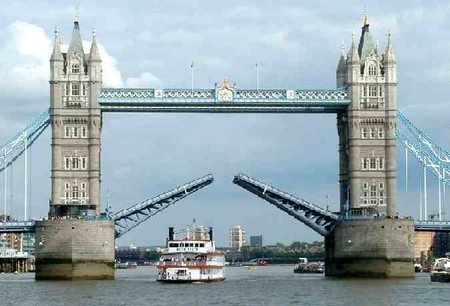 Then why not enjoy the thrill of an auction? Two of London's most famous auction houses, Christie's and Sotheby's, give free admission to onlookers. You are welcome to look at the items to be auctioned beforehand and to attend the ensuing sale – an exciting show in itself. Or how about a visit to a television studio to watch a show being filmed? An enormous choice of quiz programmes, debates, comedies and other shows are recorded during the day and in the evening. Simply apply to the television company in advance and you will receive free tickets.
London boasts a huge range of museums and art galleries, and you can get into many of them for free. The British Museum, for example, will keep you busy for days, so it is probably best to tackle 11 section by section according to what interests you most. The collection of Egyptian antiquities is one of the most famous: it includes imposing statues and a vast range of coins, jewellery and other treasures.
The Tate Britain gallery a, Millbank contains a huge collection of art, and you will find many of the most famous British artists since 1500 represented there. South of the Thames, Tate Modern houses one of the world's largest collections of modern and contemporary art since 1900, and represents all the major movements from Fauvism onwards.
If music is your passion, major arts centres such as the Royal Festival Hall, the National Theatre and the Royal Opera House regularly offer free foyer music. Also, large music stores and bookshops such as HMV, Virgin
Records, and Borders host live performances and concerts occasionally. You can find details of other free musical events in Time Out magazine. Free events take place all over London throughout the year, including festivals and parades, exhibitions, firework displays, marathons and regattas, and many more. Ask for details of these at your nearest tourist information centre.
Finally, when travelling around London, remember that although it is a large city, many attractions are located in central London and can be reached quite easily on foot. Even places that seem far apart on the Underground tube map may be closer than you think. For example, it takes only 45 minutes to walk from Covent Garden to Camden Town, and a little less to walk from Blackfriars to Oxford Circus. So before you buy a ticket to travel by bus or tube, consider doing the journey on foot instead. It's a healthy and free way to travel and you will enjoy all the beautiful sights and sounds that travellers on the Underground miss.
Filed Under: Uncategorized
About the Author: Carl Tackett is a travel enthusiast. He has traveled to over 50 destinations all over the world. Currently, he is residing in England. He loves to write about traveling and helping fellow travelers.
Comments (1)