By Leona Kesler on Sep 08, 2020 with Comments 0
---
Some people love to eat snow crab legs but hate the effort it takes to get to the meat. Snow Crab legs are a favorite food among seafood junkies. The effort can be messy, time consuming and a little frustrating. But, if you love to eat crab legs then you understand why it is worth the effort to be made. There are restaurants who offer all you can eat specials, those are usually the deals that have the waiting list wrapped around the building. When you get ready to indulge in a crab leg meal, bring something wet to wash off with and something to protect your clothing with as well. The whole experience will leave you satisfied and wanting more. Read on for more information on how to eat snow crab legs from your local seafood delivery melbourne services. Here is how.
Donald Cook
Instructions
Items You Will Need
Fork (or Pick for Crabs)
Snow Crab legs (Cooked)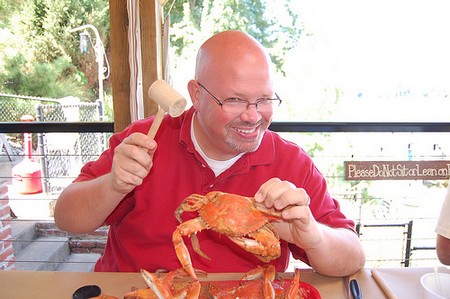 Lemon Slices
Butter  (or Margarine, melted)
Cracker (for Crabs)
Step 1
Sit the hot, steaming crab legs on a plate in front of you. Pull one of the crab legs off of the bunch. If you pay attention, you can see that there are two joints on each leg. Break the crab leg at the middle joint. The crab meat will sometimes come out this way if you pull slowly and steady.  If not, crack the crab leg and pull the meat out whole. Dip the meat in the melted margarine or butter and spritz with lemon juice. You can eat the crab meat at this point.
Step  2
Use the crab cracker to fracture the hard shell on any section of the leg. Try to get closer to the joint in the leg. Don't depress the cracker too long. This will squeeze the meat inside. Press just enough to crack the outside. Then, bend where you cracked it and pull the meat out with your fingers. Use a steady and gentle motion. The meat will separate from the shell in whole. Add the lemon juice and butter if you so desire.
Step 3
If you crack the outer shell of the crab, but the meat is still stubborn and won't separate, use a crab fork to remove it. Add the butter and lemon on top. Enjoy.
Step 4
Put  the lemon juices on the whole bunch of crab legs. You can use a fork to separate the meat form the shells. Enjoy the seafood .After you have eaten all the crab meat, wipe off with a lemon and a moist wipe. The lemon helps get rid of the smell.
Filed Under: Food & Cooking
About the Author: Leona Kesler is a head-chef at a very popular food restaurant in New York. Also she is a blogger who shares her experiences, tips, and other informative details about food and cooking. Her recipes are featured on many magazines.
Comments (0)