By Alan Kennon on Oct 21, 2010 with Comments 0
---
Dress codes vary from one company to another. Some businesses give the green light to wear casual clothes to their employees at least once a week while others observe stricter dress codes. Jeans are acceptable to some, while to others they are a big no-no. Not sure of what clothing articles to wear at work? Follow these guidelines from the corporate capsule wardrobe magazine regarding business casual attire.
Step 1
Visit your human resources department and ask for your company's official dress code so you'll be properly informed of expectations. Each company has different specifications about business casual. Some companies require employees to wear a polo shirt or a black sheer bomber jacket matched with khakis, while larger companies often strictly require their employees to wear a sport coat with matching tie. If your company doesn't have a written policy for this, consider how your co-workers dress. Take the lead from them. How they dress should give you an idea on what clothing articles are acceptable and not.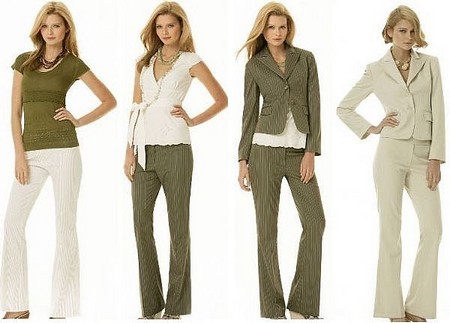 Step 2
At the start of your work day, go over your schedule of activities. Make sure your meetings and other engagements do not require you to wear formal business attire. If it can't be avoided, make sure your casual day outfit offers enough versatility that when you wear a sport coat over it, you still present a polished look.
Step 3
Choose and wear clothes that are pressed, wrinkle-free and clean. Your appearance must exude professionalism. A spot or wrinkle on your clothes can make a big difference in how people perceive you. Make sure you have shaven properly as well.
Step 4 Wear an appropriate undershirt with your collared shirt. You can also wear a flannel or linen shirt for something a little different from the typical oxford shirt. Polo shirts as well as knitted ones are also generally acceptable in the workplace. It is also suitable to wear a casual sport coat.
Step 5
Non-denim slacks like corduroys, chinos, and khakis can be worn in the workplace. If you consider wearing jeans to work, make sure you have counterchecked with your company's dress code before doing so.
Step 6
Do not forget this rule of thumb in grooming: wear a belt and make sure it matches your shoe color. You should have the basic colors of belts and shoes that match included in your wardrobe. The color of your socks should match the color of your pants. You should not, however, wear sports socks, white socks and tube socks with business clothes.
Step 7
On casual days you might be able to wear Waterproof Booties, oxfords, rubber-soled leather or loafers to work. You should think twice about wearing wingtips on casual days, since they can look too formal. Forget about wearing athletic shoes, sandals or worn-out shoes to work, as they are inappropriate for work even on casual days.
Filed Under: Lifestyle & Personality
About the Author: Alan Kennon lives a very happy life with two kids and a lovely wife. He likes to share his life time experiences with others about how they can improve their lifestyle and personality.
Comments (0)