By Jason Prickett on Jan 15, 2010 with Comments 0
---
Smooth, hardwearing, washable and warm are the best qualities for the floor in a child's room. Fitted carpet, although warm and comfortable, is not the most suitable flooring because it is difficult to stand building bricks on and not very easy to wash. If you do want to use carpet, choose one with a non-pile finish so that cars will run, railway track remains coupled and brick edifices won't fall down.
When you are laying carpet, it is important that it should have the correct backing. Rubber-backed carpet can be laid directly onto the floor but most other carpets require proper underlay. Newspapers or an old carpet are not satisfactory substitutes and anything woven used as an underlay will cause the carpet to creep.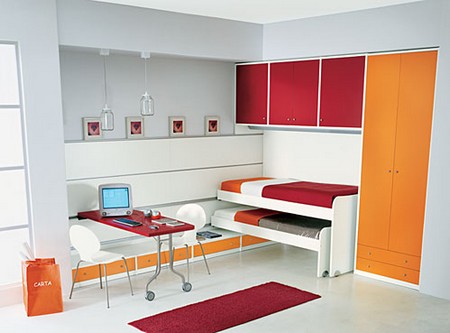 There are a number of other floor coverings which are smooth and not cold to the touch, and so are very suitable for children's rooms. Cork is warm and comparatively soft, as is linoleum, which is warmer and altogether more sympathetic than vinyl. Both cork and linoleum can be waxed or sealed with a matt seal, and cork is available coated with PVC which makes it very easy to wash.
Matting is another practical and warm option, and the choice of coir, sisal and rush matting is enormous. At one time, the matting had no backing and collected dust underneath but now most have backings which, besides making them easier to clean, also means they are less likely to ruck up. They can even be printed, stenciled or painted to give added color and interest.
Wood is a good material for children's floors. Elderly floorboards can often be draughty but you can fill the gaps with crumpled newspaper or paper mache, or lift the boards and relay them closer together. Wood-block and wood-strip floors do not have this problem. An Indian rug decorated with embroidered animals or flowers is one of the cheapest and prettiest ways to add warmth and color to a child's room. If the floor is so highly polished that it has become slippery, remove all the old polish with white spirit and replace it with a plastic-resin non-slip floor seal.
Filed Under: Home & Maintenance
About the Author: Jason Prickett loves to write about home maintenance and stuff you can do yourself instead of hiring any professional. His step by step guides will assist you in completing your home maintenance tasks.
Comments (0)