By Vanessa Page on Jan 01, 2018 with Comments 0
---
Is cooking your first love? Are you artistically inclined when presenting your food? If you love to cook and think food presentation is important, you might make a great chef. Most professional chefs aim to become head chefs and want to manage their own kitchen, while others want to open a restaurant. If you have the desire to work as a head chef but don't know where to begin, follow these tips to help you get started.
You must become a certified chef first before advancing to a head chef position. Study and attend a culinary school that offers different cooking programs. You must learn various techniques and facts about cooking and preparing food.  Start working as an apprentice or trainee under a reputable chef in an established restaurant.  In most cases, chefs acquire vast experience by working at different restaurants before they choose their own specialty or develop their signature dish.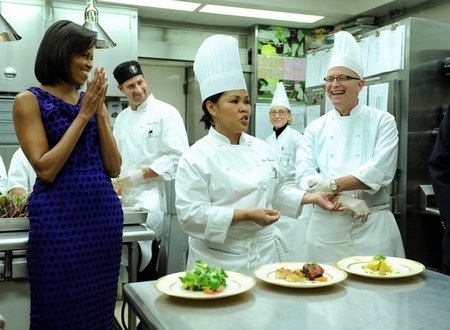 You have to figure out what type of chef you would like to become. For instance, you can work as a pastry chef who specializes in bread and desserts; a pantry chef who focuses on cold or frozen foods such as salads and appetizers; a vegetable cook who creates hot soups, vegetables and even pastas; or a chef de parte (also known as a line cook or station cook) who is in charge for a particular area. Determine in which area would like to specialize in and master it.
Value each opportunity to learn and use it to your advantage. Learn from your mentors and peers. Manage your job, time and life once you decide on this career, as it will demand much of your time and can prove very stressful and tiring. Learning how to handle such pressure when still an "underling" in the kitchen will help you become an effective and reliable chef.
Have a clear understanding of a head chef's responsibility. A head chef runs the kitchen, making sure the staff gets proper instructions and everyone does her own job well. A chef should not only have good leadership skills but must the ability to multitask and provide good customer service.
If you want to become a good leader, you must first be a good follower. Lead people by example. Chefs lead in the kitchen and impose unity and a happy environment among the team when preparing and presenting food to the diners with the goal of getting happy and content customers. Attend a class with leadership skills curriculum.
Seek opportunities to apply as a head chef with other establishments. If you have confidence that you already have the qualifications a head chef should possess, go and get the job.
Filed Under: Work & Careers
About the Author: Vanessa Page works a career counselor in one of the leading firms in Los Angeles. She is also a blogger and gives tips on how people can tackle their work and career issues. She has 8 years of experience in this field.
Comments (0)