By Jason Prickett on Jan 17, 2010 with Comments 0
---
For many a kitchen is the heart of the home. Some may only pop into the kitchen to make coffee, but for others it is the room they spend the majority of the day in, either preparing, cooking or eating food for the family.
principles
Kitchen design is based on four basic principles: storage, preparation, cooking and eating. The design of any kitchen, no matter how large or small, has to take these factors into account, and provide logically designed space for each function. Kitchen layouts are divided principally into six categories: U-shape, L-shaped, double or single galley, peninsula, and island. Kitchens can be designed from one or a combination of these layouts depending on the size or shape of the room.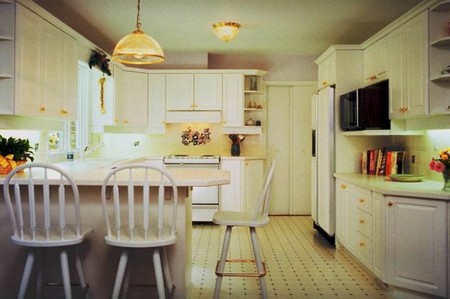 lighting
Ceiling spotlights placed over working areas and throughout the room are essential for a well-designed kitchen. Under-wall unit lights are a useful bonus, especially in a kitchen that you eat in. The strong overhead lights can be dimmed or turned off. You can then dine by candlelight, supplemented by a subtle light source from around the perimeter of the room.
floors
Kitchens can have any floor surface that can be easily cleaned. Base your choice on what suits the size and style of your room. Wood suits many kitchen styles, but can be expensive to install and maintain. The range of vinyl linoleum made today is infinite. No longer the clinical vinyl of the past, it is available at all prices and in a range of finishes that imitate woodgrain, marble, metal and tiles. Ceramic tiles are an obvious choice for kitchens, both practical and hard-wearing, they work well in many decorating schemes. Carpet is unwise as spills will ruin most carpets. Carpet tiles are an option as it is easier and cheaper to replace just one or two as they become worn.
colour plan
No colour plans can start before you have chosen your kitchen units. Once the choice has been made, you can then start thinking about the colours you would like to use. Next, think about the wall tiles – more often than not it is the choice of tiles that dictates which colours will be selected.
design theme
Take your lead from the style of units and choice of tiles, as they are the most expensive and permanent parts of a kitchen. A design theme could be inspired by a family collection of hobbies, the design chosen for the blinds, or a favourite piece of ceramic. Keep the theme simple as a kitchen is full of essential equipment and accessories.
furnishings
Most kitchen furniture will be built-in, leaving only space for a table and chairs in a combined kitchen and dining room, and probably only a stool in a small room. Large kitchens where space isn't at such a premium can take an unfitted look. A design scheme based around individual pieces of furniture gives you the freedom to create your own look. There are affordable kitchen trolleys online that you can add to provide additional storage. Use blinds to bring some pattern into the room. These can be checks or stripes if you are going for a minimal look or a floral design if you have a more traditional room.
Look at the space leading off your kitchen as often there is more than door into a kitchen and there can be spare space that can be turned into a cupboard. Top of the list must be kitchens large enough to have a separate seating area, which turns the kitchen into another living area in the home.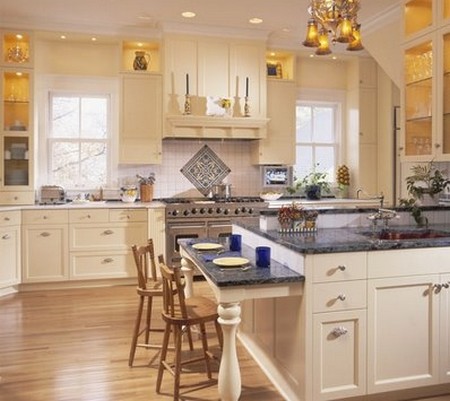 details
Go shopping and look for basic kitchen utensils and washing-up bowls to co-ordinate with your colour scheme. A small picture or a decorative ornament can make a kitchen appear less functional. You could also update inexpensive hardware such as your kettle or toaster.
final touch
Herbs growing on a windowsill in appropriate containers bring a herb garden into your kitchen.
Filed Under: Home & Maintenance
About the Author: Jason Prickett loves to write about home maintenance and stuff you can do yourself instead of hiring any professional. His step by step guides will assist you in completing your home maintenance tasks.
Comments (0)