By Jason Prickett on Jan 17, 2010 with Comments 0
---
From the moment you walk through a front door, it is the hall that gives you an insight into what you will find beyond. First impres­sions count, and although a hall is often perceived as just a passageway, it is one of the most important rooms in the home.
principles
A hall is principally used as a route to get from one room to another. Rarely is there the luxury of being able to use the hall as a room to live in. Think laterally about the space, and look at the rooms that lead off the hall. Could a wall be knocked down to include the hall space in another room? Remember to check with local building regulations before making any structural changes.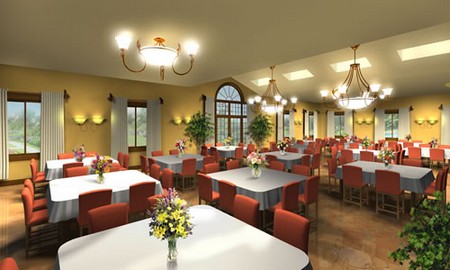 Work out if there is room for a telephone table, or wall space for coat hooks or for a coat cupboard. Chairs give a lived-in feeling to the room and are also welcoming for visitors. Even in a narrow hallway, try to have a shelf for keys and letters to avoid them being left on the floor or on surfaces you intend for ornaments.
lighting
Hall lighting has two functions. Firstly, bear in mind safety: an entrance and staircase must be well lit. Secondly, think about how combined use of different lighting and dimmers can add a welcoming, relaxed atmosphere, especially if the hall leads straight into the living room.
Generally halls have overhead lighting. If your hall has a single pendant light, think about moving it and adding another light. This type of light is great because of the different pendant light features. A single light can make the space look smaller, whereas two lights placed further apart gives the illusion of a larger area. Combining ceiling lighting with wall lights (on separate switches) is very effective, especially on long, narrow hallways where there is no natural light.
floors
Hall flooring has to be practical and hard-wearing. Steer clear of pale colours which will be difficult to maintain. If you do move to a house that already has a pale carpet that you cannot justify replacing, inexpensive rugs can protect the areas of hardest wear and contribute to the overall colour scheme. Doormats are essential for all entrance halls. Rather than a loose mat, think about cutting a mat well into the floor, and using a coloured coir mat, thereby creating a functional as well as unusual design feature. Hard flooring is ideal for halls, and there is a huge choice of materials available to suit the style of your property.
colour plan
The colour plan in a hall should always relate to and link together the colours used throughout the house. Particular attention should be paid to how you link colours, pattern and texture in hallways. The colours used in the hall should establish the 'signature' colour for the house if you are going for a harmonious theme. Paint effects can be particularly effective. Alternatively, if you decorate with bold contrasting colours, patterns achieved with wallpaper or paint techniques such as stencilling or stamping can bring all the colours together.
design theme
Following the guidelines outlined for colours, bear in mind the same thoughts when thinking about the design themes. The hall should 'set the scene' for the overall style of the house, although different rooms can reflect a variety of themes. You could have a contemporary kitchen with a traditional Victorian living room for instance, and your hallway could help to link them together. Often an eclectic theme works well in a hall, combining ancient with modern and reflecting individuality. Anything that can make a hall appear welcoming will work well – perhaps photographs or paintings of favourite places or holidays? A child's painting well-framed can be very stylish and fun.
furnishings
Hall furniture should be practical, but quirky unusual designs can give the room character. Halls can have awkward proportions so always keep a look-out for unusual pieces that could fill a space too small or narrow for standard furniture. Basic storage will help keep the hallway clutter-free, so look at the available space objectively, and see if there is anywhere you could build a bookcase, put a desk or create storage under the stairs.
Few soft furnishings are generally required in hallways, unless the room has a dual-purpose, but full-length curtains over the front door can be very effective for keeping out drafts in winter and blinds over windows can keep the hall cool in summer.
details
Go to town on decorative accents and details in a hall. Small spaces and minimal use of furniture means you can use details to their best advantage, but do not be tempted to clutter the space. 'Less is more' could have been written with halls in mind! A single picture can be more effective than lots of little 'postage stamps' on the walls.
final touch
To complete the picture, a scented candle in a hall is a must. There is a multitude of choice now available and any mood can be created. Nothing is more inviting than a delicious scent when entering a home, and this can make you never want to leave.
Filed Under: Home & Maintenance
About the Author: Jason Prickett loves to write about home maintenance and stuff you can do yourself instead of hiring any professional. His step by step guides will assist you in completing your home maintenance tasks.
Comments (0)