By Marie Mayle on Jun 09, 2010 with Comments 0
---
For every decoration you must remember the 3F's. These are the formulas which will help you to do the decoration in a cost-effective manner. They are, freaky, festive and fantastic. This makes the Halloween party a successful event in the society. Only in this party you can make your guests to afraid on your appearance and with blood-shed decorations. Now you can have the following tips which will keep your decorations without spending out of your wallet.
Procedure:
Tip 1: Try to get the decorative items as early as you can most probably in the august itself, so that you can bargain the product. Mostly all the decorative costs around 1$ approximately. This makes you to spend fewer amounts on the decorative items. At the same time buy plastic serving dishes and Halloween goblets this will reduce your cost at a great extent. Try to get some candles in the shape of skull this will make your dining more interesting.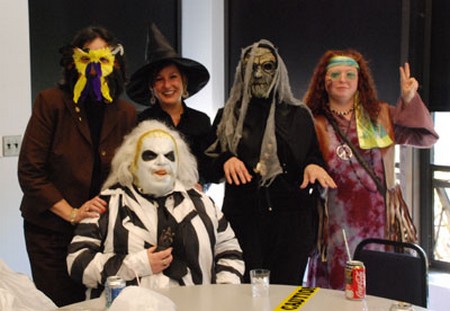 Tip 2: Spider webs are the spookiest decorative item, so buy a lot of artificial spider webs. This will make your home a spooky place. This is an affordable decorative item, this costs around 2$ only and makes your home a spookiest place. While buying this asks the shop keeper for the stretchable models available because this will cover more area then the other one. Decorate the doors with this web.
Tip 3: get in the mind the "creepy crawlers" of Halloween. Buy some plastic bugs and spiders. You can get them in the nearby departmental store. This will just costs around 5$ alone. Try to buy them in packets or bags. Now scatter the spider over the spider webs in your home and spread the bugs in different parts of your home, likely to be in the table areas.
Tip 4: You have spent a lot to decorate your table, so your table is yours masterpiece. Keep the table in the place where the visitors can notice them. Now cover it with aluminum foil to get a glittery look and also place some candy corn over it. This will make the visitors to come to the table to have the corn and they will get the spooky experience.
Now all the decorations are over. It's your turn to make the spooky dishes like blood red colored fizzy drinks, spider cupcakes. Now you have done all the things in your budget. Have a nice Halloween party. Don't forget to fill up your buckets wit smoky dry ice.
Filed Under: Arts & Entertainment
About the Author: Marie Mayle is a contributor to the MegaHowTo team, writer, and entrepreneur based in California USA. She holds a degree in Business Administration. She loves to write about business and finance issues and how to tackle them.
Comments (0)