By Jason Prickett on Jan 17, 2010 with Comments 0
---
Dining rooms are an asset to any home, and the bonus of having a separate room to eat in is hard to beat, especially if you have a small kitchen. Careful attention must be paid when planning a dining room – there's a lot more involved than just buying a table and chairs!
principles
Check you have enough space to use a room as a dining room. As a rough guide, allow 12-16 sq. rm/14-19 sq. yds to seat six people comfortably. Think about how you are going to use the room. Will it be dedicated to entertaining on an occasional basis, or will it be used by the family for all meals? Do you want to create a formal or informal room? Will the room double-up as a workspace or study? All these considerations need to be balanced and taken into account.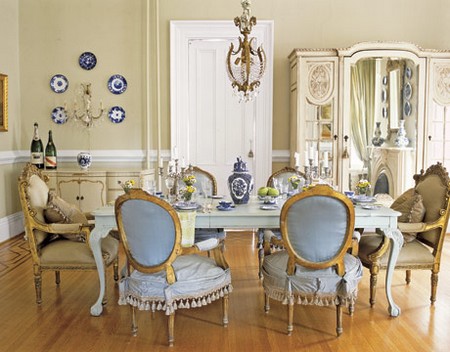 lighting
Dining rooms must have lighting that is both atmospheric and practical. Lights connected to individual switches and dimmers are an, effective means of achieving different lighting effects. A good starting point is to install a pendant light in the centre of the table. This casts a relatively large area of light over a focused point. If you have an adjustable fitting, this can be lowered for a more intimate effect if there are fewer people.
Work out where light is needed in other parts of the room. If you have a large dining room, it will require additional ceiling lighting, and remember to provide lighting for any dining room furniture, especially if it is used for serving food. You could also plan to supplement lighting with candles.
floors
Carpets are a good solution for dining room floors as they act as good sound mufflers. Unless you have a very modern design theme, vinyl tends to look very clinical. However, with the current move toward natural floor coverings and wood, these should also be considered. The neutral tones of natural floor coverings enhance any decorating scheme, traditional or contemporary. Their construction makes them the ideal solution if you want to use soft colours that are hard-wearing and don't show every speck of dirt or dropped food. Over a period of time though, the movement of chairs will start to show on any flooring surface. One of the main advantages of a wooden floor is that it can be sanded to remove any marks, and then repainted, stained or varnished.
colour plan
Dining rooms can be both calm or dramatic, depending on the use of the room. Pale, cool shades such as these blues are ideal for a room that is used by all the family and doubles up as a workspace. As long as you use a tone that has some depth of colour you will notice that it reflects different shades according to the time of day.
Alternatively, be bold! Deep or bright colours can be used to great effect in dining rooms. It is said that these colours both stimulate the appetite and encourage lively conversation – ideal for entertaining and for rooms used mainly in the evening.
design theme
Choose a theme that complements the use of the room. A family dining room that doubles up as a room for entertaining would benefit from simple decoration that can be altered with accessories. If the dining room connects directly to another room, ensure the individual room themes work together. Inspiration can also be taken from pictures, fabrics and your china design.
furnishings
Dining room furniture usually consists of the basic dining tables and chairs, and a side table if space permits. Any additional wall space could be used for spare chairs and storage. Do make sure that there is enough space for people to circulate. Nothing is worse than spilt soup when someone is trying to squeeze past! Give some thought to the table shape. A square or octagonal table makes an innovative change from traditional circular and rectangular tables. Seating should always be comfortable, and the style should reflect the amount of use it will get. Large rooms can take curtains, but it is better to use blinds in small rooms, so the space is not minimized. Make use of tablecloths as not only do they act as a protection for the surface below, but are an easy and inexpensive way to add to the overall theme.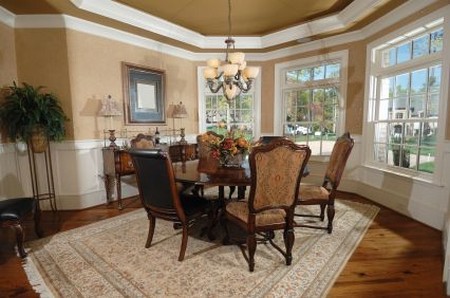 details
Pay as much attention to your table settings as to the actual decoration itself. Try to have china that complements your colour plan. When entertaining, little touches such as carefully chosen napkin rings and candlesticks add interest and diversity to an occasion. Choose pictures that encourage conversation and work with your colour scheme.
final touch
Dining rooms that are not used every day can look cold and unused. Try keeping a bowl of pot-pourri or fresh flowers in the room, so the room feels lived-in at all times.
Filed Under: Home & Maintenance
About the Author: Jason Prickett loves to write about home maintenance and stuff you can do yourself instead of hiring any professional. His step by step guides will assist you in completing your home maintenance tasks.
Comments (0)