By Arthur Kunkle on Jan 17, 2010 with Comments 0
---
Not everyone is fortunate enough to have a garden. Even for those who do, many days pass without being able to go outside and enjoy being surrounded by plants and nature. First designed by the Victorians as 'winter gardens', a conservatory brings the atmosphere of a garden into your home.
principles
Work out how you are going to use your conservatory. Is it to be used as a sitting room, or will you like to use it as a dining room? Would you like to use it in the evenings?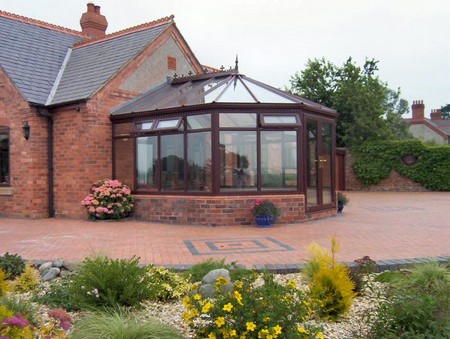 The design of a conservatory must be sympathetic to the architecture of your house and you should give careful consideration to how it relates to the room from which it leads.
Trail
Plants thrive in conservatory conditions, but do make sure there is a source of water nearby for easy watering. Check you have adequate ventilation and heating for both you and the plants. Take steps to prevent condensation, especially if the conservatory is adjacent to a kitchen. Rain outside is one thing, but do not give yourself this problem when you have brought the garden inside!
lighting
Conservatories cannot rely solely on natural light; The large glass roof gives the room an unrivalled light, airy feel, but this must be supplemented by artificial light for evening and winter use. Position sockets and switches carefully to avoid danger when watering. You could use fittings designed for bathroom use. The most effective solution is to use wall lights or spotlights that can be attached to a high window frame.
floors
Bear in mind that conservatory floors have to be practical. The surface should reflect the natural garden theme, and rugs (with non-slip underlay) bridge the gap between home and garden. Vinyl flooring is available in a large variety of natural effects and terracotta floor tiles win the prize for the ultimate in conservatory flooring, looking great in any design scheme.
colour plan
Use garden colours in your conservatory and you can't go wrong. Having said that, a garden has a huge range of colours so think carefully about what kind of garden you would like to create. Use gardening books for inspiration and limit your colours to a particular theme or style. Pinks and greens conjure up visions of an English country garden, whereas lots of leafy green plants and bright colours can transport you to the tropics. Focus on the colour for the window frames as these will form a dominant part of your colour scheme.
design theme
Gardening books can help you choose the right colours and themes to suit your room: Mediterranean, Japanese, Californian, Italian, formal – whichever you choose, try to ensure that it works with the rest of your home. However, not everyone wants to create an inside garden in their conservatory, especially if the room is to be used for a specific function. Look at the room it leads off and take inspiration from the decoration within the house.
furnishings
In keeping with the garden principle, furnishings made from natural fabrics, especially wicker and wood suit conservatory living. Keep soft furnishings simple and avoid curtains. Blinds and plantation shutters suit the lines of a conservatory and provide shade and insulation that you can control.
Most of the wall area is likely to be glass and any solid walls are likely to be the original walls of the house. Brick walls can look very attractive but you could also paint them. Experiment with paint effects that enhance brickwork.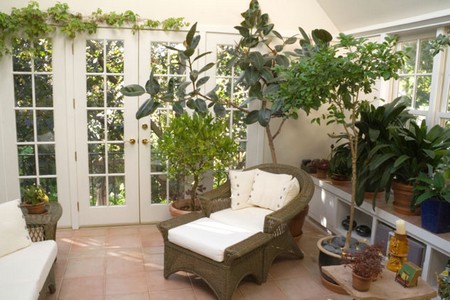 details
Look for quirky accessories to give your conservatory an individual look. The view outside provides the main backdrop, so pictures are rarely required. Bringing the outside in creates a large-scale effect, which can be used to best effect with large overscale ornaments. Sculpture is especially effective, and echoes the theme of garden statues.
final touch
Complete the garden mood with a small decorative fountain – running water is the ultimate sound for relaxation.
Filed Under: General How To's
About the Author: Greenery always attracts Arthur Kunkle. He has a big garden where he plants many fruits and vegetables. His passion for gardening motivates him to write and share different tips on gardening.
Comments (0)