By Jason Prickett on Jan 17, 2010 with Comments 0
---
Bathrooms and shower rooms are often perceived as functional, uninviting rooms. In reality, they can be havens of calm and tranquillity where you can escape the stresses of everyday life.
principles
Essential bathroom fittings and equipment have to take priority when planning a bathroom. If you are designing a room from scratch, play around with all the different ways your basic fittings might fit into the space. Ensure there is adequate ventilation (check building regulations). If you have the luxury of being able to fit both a shower unit and bath in the same room, take expert advice to ensure your boiler can provide enough hot water. Visit this site, you could be eligible for a free grant of a new boiler.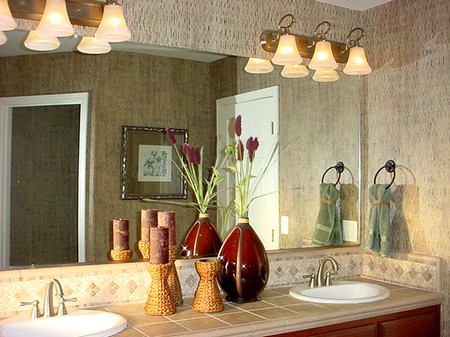 lighting
The main consideration with lighting in a bathroom is safety. The fitting you choose must be sealed against water penetration and condensation. Spotlights positioned above sinks and mirrors are very useful.
floors
Bathroom floors must be made from non-slip materials. A wood floor must be well sanded and varnished to protect feet. Vinyl can create a futuristic look, or it can be covered with a rug that can double up as a bath mat. Bath mats usually have non-slip bases, but if you use a rug, place a non-slip liner underneath for additional safety. Ceramic floor tiles can be slippery, but co-ordinating floor and wall tiles can make a stunning design scheme.
colour plans
Think of your favourite colour and use it! All colours work in bathrooms, but some of the most effective colour plans come from water colours. Monochromatic colours can be very restful, especially if teamed with co-ordinated equipment and fittings.
design themes
Just about anything goes. This is the one room in the house where you can indulge your fantasies and let your imagination run wild. Patterned tiles and towels can be a useful source of inspiration.
furnishings
Rarely do bathrooms have room for more furniture than a small table and chair. Tables can be a useful alternative to wall cupboards but bear in mind the effects of steam and condensation. Any medicines and toiletries should be kept locked away from young children. Blinds are the most popular window treatments for a bathroom, but don't overlook the possibility of using curtains in a large room. Walls are generally best painted to cope with condensation, and bold paint effects can look very dramatic in a large room and make a small room look larger.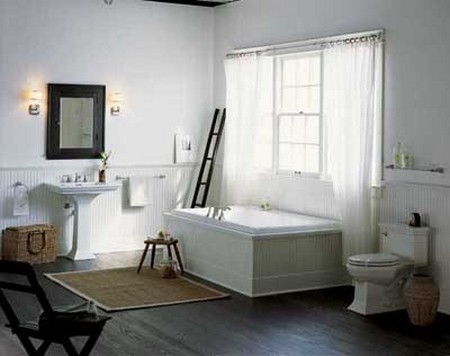 details
Pictures may not fare well in a bathroom, so look for alternatives. Ceramics provide a decorative and practical alternative, and can be a good source of design inspiration too. Look around for interesting towels and bath mats, or items at this Sunbury bathroom store.
final touch
Replace your toilet with a modern style that hides the cistern behind a wall or add a new toilet seat.
Filed Under: Home & Maintenance
About the Author: Jason Prickett loves to write about home maintenance and stuff you can do yourself instead of hiring any professional. His step by step guides will assist you in completing your home maintenance tasks.
Comments (0)