By Alan Kennon on Sep 16, 2010 with Comments 0
---
The Mohawk is a unique hair cut that features a long strip on hair down the center, with no hair on either side of the hair. People who wear this hairstyle are known to be very non conformist types. They do not see the need of blending in and wear their hair as a symbol of their stance.  The hairstyle started with punk rock and because popular over the years. All types of people are seen wearing this daring hairstyle all across the world.
The haircut is not difficult to do. Here is how you can cut your hair into a Mohawk. Read on for more instructions.
Instructions
Items You Will Need: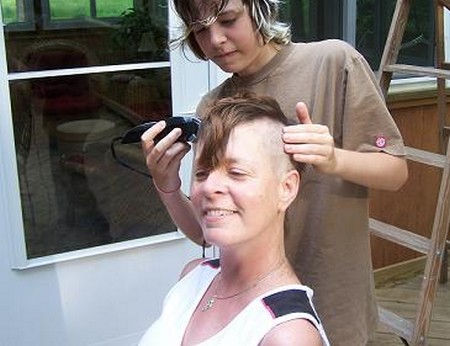 Step 1
Use the hair clips and plastic comb, to section and part the hair. Start on the left side of the head. You can make your Mohawk as narrow or wide as you desire.  Use your eyes as a guy as to how wide it should be. It can be from the bottom of the neck to the front of your forehead. The dimensions should be specific to your head, preferences and shape.
Step  2
Ask for some help with this step. Ask another person to use the electric clippers to remove the hairfrom the two sides of your head. It isn't impossible to complete this part alone, but it would be a big help to have someone do it for you. It makes your Mohawk even to have some assistance to reach the areas that may be difficult to access if you had to do it yourself. Start on the left side. Then, shave the right side bare.
Step  3
Cut the section of hair in the center to the desired length. The longer you leave the strip of hair on the center, the more versatile you will be able to style the hair afterwards. This will make it easy to project your own personality in the hairstyle.
Step 4
Remove all the stray hairs from the head and body. Do this my taking a shower and letting the water wash the cut hair away. After you finish you will be able to see the new Mohawk.
Step 5
Style your hair style with gel and spike it how you want. There are various ways you can style your new hairstyles after it is cut. You can go as far as your imagination will carry you. Enjoy your new haircut.
Tips & Warnings
To get your spikes to stay stiff and in position all day, use the gel that says extra hold. This will achieve the goal.
Filed Under: Lifestyle & Personality
About the Author: Alan Kennon lives a very happy life with two kids and a lovely wife. He likes to share his life time experiences with others about how they can improve their lifestyle and personality.
Comments (0)