By Alan Kennon on Sep 16, 2010 with Comments 0
---
The real Mohawk is a men's haircut that comes from the trend of punk rock. It started in the 1980's and has gone through various stages. Eventually, people started to accept it mainstream. There were American television shows that featured the hairstyle.
Currently, the style of the Mohawk has been adjusted to limit the range of the spikes solely to the front region of the hair. This style is generally called a faux hawk. The hair is cut with scissors or clippers. This is not like the original full mohawk when the head is shaved with clippers. This leaves the hair in the center. Mohawks are usually worn in heavy spiked lines. Faux hawks are textured to blend and blurry the varying lengths of hair.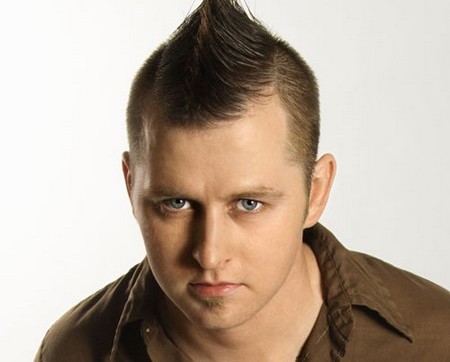 The hairstyle is commonly worn by people who don't want to be seen as the conformist type. The long track of hair in the center of the head is known to be about ¼ to ¾ of an inch long. The lengths can be different and the degree of spike is changed depending on personal preference. It's a little more diverse than the original Mohawk. Here is how you can create a faux hawk.
Cutting the Faux Hawk
Make sure you hair is not wet for this step. Use the clippers to make the hair even. Simply cut around the perimeter of the hair. If you wet or dampen your hair the result will not be uniform and it will stop the blades on the clippers.
The center line of hair should be sized according to the individual. Most barbers will use the center of the eyes as a focal point to determine this. Keep the path you're cutting along clear with a comb. Run the clippers over the surface of the head delineating and creating the signature strip.
If you want to do the style using scissors only, you should find a guide to follow to make sure your lines are clean. You can do this style with tapering sides. It will not matter if it is clipper or scissor cut.
To get edgier results from your new faux hawk use the point cutting technique to texturize the strip. This will enable you to get the tossed, jostled look and give your style depth and dimension. The final result will be spiky unorganized hair.
When the cut is finalized use gel or hair mousse to hold the form of the spiked.  Dry the hair with a diffuser attachment to ensure the hold. If you need more definition use some hair pomade and work it in with the first few fingers to build sharper spikes.
Filed Under: Lifestyle & Personality
About the Author: Alan Kennon lives a very happy life with two kids and a lovely wife. He likes to share his life time experiences with others about how they can improve their lifestyle and personality.
Comments (0)