By Arthur Kunkle on Feb 22, 2010 with Comments 0
---
On larger balconies it may be desirable to erect some form of internal partitioning, using the more decorative forms of trellis. This might be to separate one part of the balcony from another: perhaps to enclose a small dining or hot tub area, to provide extra shelter or privacy, or to create a more intimate atmosphere. Whether you opt for an internal screen, back wall cover-up or important side shelter, the scope and range of trellisage and screens are almost infinite.
The use of timber by modern landscaping designers has been particularly exciting, drawing on classical themes as well as creating eye-catching new designs. The simple principle of interlocked or woven slats seems to offer an infinite variety of patterns. They can be laid straight in a checkered design, or, more stylishly, on the diagonal or even simply constructed in vertical parallels. Struts can be flat and wide or slim and narrow to vary the effect and the profile can be curved or angular, arched or pyramid-shaped. Some of the most exciting effects incorporate more than one of these ideas in panels or sections to create a complete and much more complex design. Some trellises have two layers for maximum protection, while others incorporate windows through which to appreciate a view. Particularly effective, and easily adapted to any size or shape, are small square sections of timber trellis, each incorporating a slightly different design: arranged vertically, horizontally or including random spaces. A combination of different types fixed side by side can look very effective indeed, like a sophisticated kind of subtle patchwork producing lovely striped shadows. More lovely designs are inspired by such classical themes as the columns and arches of a Greek temple, a medieval scalloped profile, Georgian formality or ornamental Gothic posts and finials.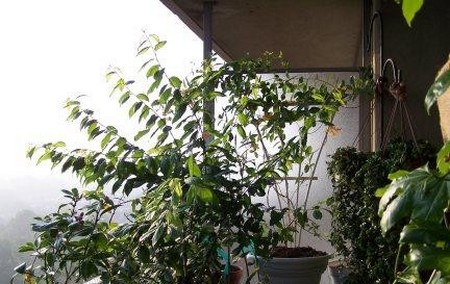 Timber screens
Timber is equally flexible in its size and finish too; it can be constructed to any height or assembled in sections to any width or shape that fits your balcony. These sections might, be stained and varnished in the traditional wood shades of rich red, dark or honey brown, or given a softer, more weathered look or more up-to-date appearance with one of the new pastel-shaded stains – perhaps a soft grey or sea-bleached blue. For a more dramatic effect, the trellis might even be stained a smart dark green, deep blue or strong Chinese red. Timber can be as subtle or as stunning as you wish (remember that matt and satin varnishes are not as hard-edged and shiny as gloss paint); it can even have an unmistakably rustic air if you use simple chestnut poles nailed together to make a framework. For a very soft, natural look that is quick and easy to install, you can buy willow hurdles, bamboo or reed screens which are available in sections and simply fixed to a timber frame. They also make an excellent disguise for an existing wall or partition, providing an instant cover-up or temporary screen which is easily dismantled should you want to replan your balcony or move home. They look especially good in a modern or oriental scheme.
Metal screens
Metal is another exciting screening material if handled boldly. Meshed screens may offer a variety of patterns and designs, including cut-outs, and are easily spray-painted in your chosen colour — including shiny metallic finishes or glossy black for a really stunning hi-tech scheme. Alternat­ively, dramatic metal struts are sometimes erected as plant supports in pyramid or arched shapes, and then infilled with wires or netting.
Metal does have its softer, more traditional aspect too, and is also available as old-fashioned Victorian-style trellis sections, arches and frames, often used to create rose arbours and bowers. They are lightweight and are particularly suitable as plant supports if firmly fixed in place, or attached directly to the back wall to add interest.
Filed Under: General How To's
About the Author: Greenery always attracts Arthur Kunkle. He has a big garden where he plants many fruits and vegetables. His passion for gardening motivates him to write and share different tips on gardening.
Comments (0)