By Arthur Kunkle on Feb 22, 2010 with Comments 0
---
Some form of overhead structure is frequently necessary, both for privacy and to create a pleasing sense of seclusion. It will also act as a shelter by filtering light summer showers or the debilitating effects of strong sunshine. A climbing plant produces the most natural effect and, if you choose a quick-growing annual or deciduous type, it will allow more light on to the area during the winter months. Climbing roses, clematis and wisteria are particularly suited to this treatment since they offer the dual advantage of attractive foliage and beautiful flowers in spring or summer.
Pergolas
The most usual form of support for plants – and it needs to be strong, even for slender twining annuals like sweet peas — is a series of metal wires or a pergola structure. A pergola is the most ornamental option and provides interest even through the winter months when it may be totally or partially uncovered because the plants have died back. It is also sturdy enough for lightweight canvas or bamboo screens to be pulled across it in particularly hot weather, or throughout the summer, if plants have not been chosen to smother the structure. Cane mats or reed panels can also be attached to the sides for screening and to produce a more enclosed, private area.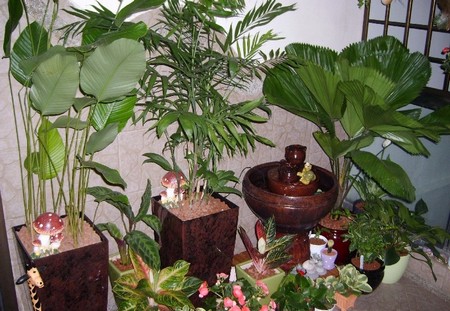 A pergola is usually made of timber, often rough-sawn, although it can be sanded and specially finished with paint or varnish for more sophisticated schemes. However, for a lighter effect, it could equally well be constructed using unpeeled larch poles, bamboo (fixed with galvanized nails but superficially bound with twine for a traditional oriental effect – space them closer to create more shading) or metal poles. For that chunky hi-tech look, you could even use steel girders, painted perhaps a dark grey, blue or ox-blood red.
A pergola is really little more than a simple framework with a series of crossbeams along the top; these are usually allowed to extend beyond the framework rather than being cut flush, for a more attractive appearance and to suspend hanging baskets from the overhang if wished. It needs to be well-supported, usually by a series of vertical supports, and firmly fixed to the back wall. For reasons of safety and security, it may also be necessary to add further support in the form of a tensioning cable attached to a nearby wall or similar firm structure. Metal wires are far less decorative but relatively unobtrusive if you prefer your climbing plants to take predominance. Stainless steel or plastic-covered wires should be properly spaced and stretched under tension to provide adequate and safe support.
Filed Under: Uncategorized
About the Author: Greenery always attracts Arthur Kunkle. He has a big garden where he plants many fruits and vegetables. His passion for gardening motivates him to write and share different tips on gardening.
Comments (0)