By Arthur Kunkle on Feb 20, 2010 with Comments 0
---
Your most important accessories for color coordinating, creating special effects and both softening and adding life to your balcony scheme, are the plants you choose.
If you are simply aiming at a good display amongst which to sit and relax or want to provide a year-round attractive view from the house, the guidelines are even simpler and the choice extensive. You might be surprised at the range of plants that will flourish in containers or small planters — even trees and shrubs can be good container subjects, providing they are kept adequately fed and watered. Some are obviously more suitable than others — the smaller, more compact and dwarf varieties, for example, or those that can be clipped or pruned to keep them in check. Standard-grown trees and shrubs — those which are trained to produce a neat ball of foliage (complete with flowers or fruit at the appropriate time of year) on top of a long narrow trunk — are particularly popular on balconies for their decorative value. However, the very fact that the roots of container-grown trees and shrubs are restricted will naturally limit their size.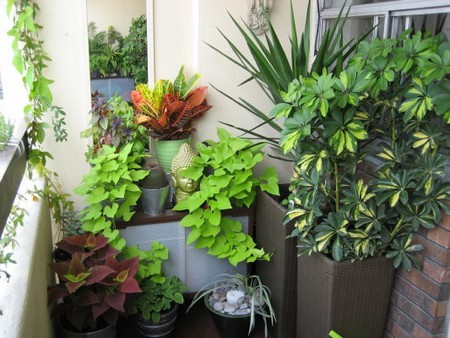 Add to this list all the dramatic foliage plants, the bright summer flowers and fresh spring bulbs at your disposal, to be blended with the flowers and foliage of the climbing plants, and you will find that the design possibilities are endless for all seasons. Because all the plants have to be grown in pots and containers, the display is easy to maintain and keep in peak condition, as you simply replace plants once they are past their best or reorganize the containers. Another advantage is that the whole scheme is completely flexible: it can be reorganized or rejuvenated at a day's notice.
Creating a mature effect
Given the exciting scope and range of plant material, you may be feeling disappointed that the balcony area is so small and that your choice will have to be limited to only a few species each season. Be consoled by the fact that the area lends itself to cramming in a great many plants to create the stunning effect of a profusion of shape and color. Unlike an ordinary garden, where young plants have to be given plenty of space to grow so the scheme does not really achieve the desired mature effect for a year or so, pots can he easily moved close together on a balcony and repositioned or replaced as needed.
For a good, balanced display, you should be aiming at not just year-round interest and harmonious or stunning colour combinations, but also an effective blend of different heights and shapes within your plant arrangements — remember with mixed groups that large plants should be positioned to the rear or center, and smaller species to the front. Apart from showing them to their best advantage, this helps to build up a three-dimensional tiered effect: shelves or staging at different levels can also be used to create this rich impression of depth and maturity.
Using seasonal plants
To keep maintenance to a minimum, it makes sense to plan a permanent framework of small shrubby and evergreen plants to which you could add a changing display of more seasonal species, and which will also provide something of interest at those times of year when little else is in season. Glossy holly is reliable and a good container shrub; the yellow variegated types are particularly attractive and will add a splash of sunshine to the balcony on dull days. A dwarf rhododendron (in a pot of lime-free soil) makes a fine show of foliage all year round with the bonus of beautiful flowers in early summer. Alternatively, you could choose a hardy, shade-tolerant Daphne for its fragrant flowers, pretty Choisya ternata or, for contrast, the bold feathery foliage of a few ferns, which look particularly good grown in individual pots or tubs and can be added wherever you need a touch of fresh greenery.
Try to add to your collection a few good spreading evergreens to cover and soften the edges of containers; choose reliable and vigorous growers like trailing ivies or the Japanese spurge, Pachysandra terminalis. For interesting evergreen shapes and colors, dwarf conifers look very good in pots, either grown singly or, in larger planters, in miniature arrangements of different heights and shapes. They come in a vast range of shapes and sizes, from balls and pyramids to mounds and cones in all shades of blue, gold, grey and green. Another excellent all-seasons idea for balconies are pots of small clipped evergreen topiary shapes which might include spirals, cubes and cones as well as orbs and mounds; they are compact, attractive and can be positioned as easily and effectively as any accessory.
Bulbs and spring flowers
A well-planned selection of colorful bulbs and early flowering plants is a must for your containers in spring, providing an early taste of freshness and color that can always be enjoyed through a door or window if the weather if not warm enough to venture outside. The smaller, more delicate blooms that appear at this time of year, maybe braving winter snows and frosts, are especially suited to growing in pots where they can be more easily appreciated: sweet scented grape hyacinth (Muscari), and tiny snowdrops (Galanthus) look delightful planted en masse in raised troughs, on shelves or in window boxes where they can be easily seen and smelt. Larger displays of narcissi and tulips (it is worth selecting the more ornamental types with unusual markings and double frilled forms) can make a real show and be an uplifting sight from indoors after the long gloomy days of winter.
The richly colored flowers and lush foliage of primulas can also be relied on for a good display. Depending on the general style of your balcony or personal preference, you could choose the more exotic effect of an elegant Kaffir lily (Clivia miniata), delicate freesias or pretty foliaged Erythronium.
Growing annuals
Flowering shrubs and climbers will provide a certain amount of summer interest with their beautiful blooms, but as a general rule you will be looking to quick-growing annual plants for your main summer color. There is such an extensive choice of shades, markings and forms that you can really enjoy yourself devising limited or multi-color schemes as you would balance and co-ordinate soft furnishings in an interior design.
There are the traditional golden marigolds and sweet-smelling Dianthus, neon pink fuchsias and large-bloomed petunias, multi-flowered Impatiens, carpet-forming Alyssum and pretty blue or purple lobelias. That classic balcony flower, the pelargonium, comes in a great many forms, and is popular not only because both the flowers and foliage are so attractive but also because it will largely fend for itself in most climates.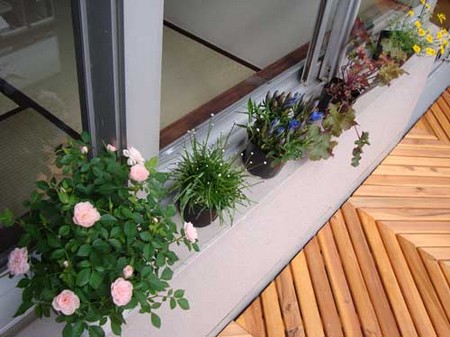 You will want to include a variety of trailing and carpeting plants among your general selection, not just to soften the front edges of your containers or to hang from pots mounted on the wall and trellis, but also to cascade over the front of your balcony or transform hanging baskets into glowing orbs of colour and shape. The effect can be almost too rich, even crude, unless you balance these bright flowers with a few evergreens and plants known best for their interesting foliage. Guaranteed to add a variety of shape and texture are the evergreen glossy Fatsia japonica, fresh lime green euphorbias, ferns, hostas, grasses and bamboos.
Winter interest
There are even plants that will look good at the end of the season and possibly through the winter months too, adding a splash of colour and sometimes the bewitching sight and scent of winter flowers to your basic evergreen framework. Some, like cotoneaster, are valued for their bright winter berries, or you could lift your spirits by planting an evergreen with variegated foliage such as the gold/green Japanese honeysuckle, Lonicera japonica 'Aureo-reticulata'. Some varieties of heather and certain shrubs will even flower in winter; the winter jasmine, Jasminum nudiflorum, produces delicious scented flowers along its bare branches and is excellent for growing over trellises and pergola structures.
To brighten up your tubs and pots you can add colour with the beautifully delicate but shade-loving cyclamen; the orange cherry fruits of the winter cherry, Solanum capsi-castrum, which makes a compact, bright green miniature bush and looks superb in troughs or boxes; or the tender but splendid Scarborough lily, Vallota speciosa, with its stunning red trumpet-shaped flowers.
Choosing suitable containers
The right plant containers can be almost as important as the plants you grow in them. The wrong type and colour could totally ruin the effect you are trying to achieve – you only have to consider the striking effect of green foliage and bright scarlet flowers against a white tub, or the loss of impact when red or orange is positioned against a backdrop g of terracotta, to realize exactly how important your choice will be. For this reason, if you are aiming for maximum impact, you really ought to have some idea of what you are going to plant before you buy or design your containers. If you are also hoping to design an area with a distinct look or atmosphere, you will have to consider whether your containers reflect it: from the smartly formal slatted Versailles tubs to Mediterranean terracotta pots or well-weathered rustic barrels.
Size is also to be considered and plants may look equally effective as a special specimen in a single pot, or arranged in contrasting groups in larger planters, provided their size and scale are complementary. A small plant will look lonely and slightly ridiculous in an over-large container – it is much better to pot it on into a larger one as it grows – or a tall plant incongruous and unstable in a small pot.
Free-standing planters
There are a great many types of free-standing planter to choose from in addition to any built-in boxes, raised beds and containers you might have constructed in timber, and stained or painted to match other structural features. Pots and tubs look good grouped together, especially to round off a corner or fill up an empty-looking area. However, the best effect is achieved not by mixing different types of container within a single group or arrangement, but by aiming at a good combination of sizes and heights in one material or a selection of similar ones. To help spread the weight, plants in several smaller pots may be preferable to one large container; troughs and long narrow boxes are also useful as they will not concentrate all the weight of soil and plants on one spot.
When choosing containers, you should also bear in mind how weather resistant they are for your particular location and how much maintenance they will require. Glazed pots may not be frost-proof, for example, whereas unglazed terracotta pots are porous and will dry out quickly in hot weather so will need more frequent watering. Timber and metal containers usually require an annual rub-down and repainting or coating with non-toxic preservative.
Classic pots
There are stone urns and pots with a charming traditional appearance for an instantly mellow feel, although they can be rather too heavy for many balconies. Terracotta pots and troughs are equally traditional but have a more informal look even at their most decorative, and are perfect for clipped evergreens, herbs and Mediterranean sun-lovers. They may be as plain as the classic flower pot, available in a wide range of sizes up to one big enough for a small tree. Others might be decorated with a tooled design or applied relief decoration displaying classical figures or flowers. The prettiest (and most expensive) come in the shape of terracotta baskets complete with a weave design and twisted rope effect handle, or in quirky animal and bird shapes designed to hold mosses and small-leaved plants.
Wall-hanging plant containers are available in both stone and terracotta, often in the shape of a basket or classical head. Terracotta can be glazed or left plain, and pots are available with the necessary matching saucers which look very smart on the balcony. You can also buy glazed decorated pots with oriental patterns and designs on them which are especially attractive and particularly suited to an oriental or decorative theme. They also generally have matching saucers to collect the excess water. Like stone, the larger ceramic and terracotta pots are heavy so you will have to watch their weight if you intend using lots of them.
Lightweight alternatives
Concrete containers are the modern alternative to terra­cotta, and need not be as heavy as you might expect, nor are they very expensive. The range of sizes is useful when you are looking for a large planter to take several plants, for concrete comes in a wide range of shapes, heights and sizes, from circular, square, rectangular or hexagonal designs, to low bowls or tall columns. The predominant and most usual colour is white, but there is no reason why you should not repaint them in any colour you choose to suit your particular balcony scheme.
Fibreglass is another modern material offering a wide range of practical yet decorative options. The big advantage of fibreglass for balconies is that it is the lightest of all the quality container materials and is available in a very large selection of designs, some of which convincingly imitate more traditional materials.
Timbet is also worth considering for its relative lightness and versatility; from the inexpensive rustic wooden barrel or tub to the elegantly formal Versailles planter with its slatted sides and corner finials, usually available in a choice of natural stain or white-painted finish. Because they are large yet inexpensive, barrels are particularly suitable for growing larger, more permanent plants such as shrubs or trees, or groups of plants. They also retain moisture well so are easy to maintain. Before planting, you should make sure that the container has not been used to store anything toxic.
Unusual containers
Using second-hand receptacles like this can be useful for creating an instant mature and more mellow effect on the new balcony. Other useful plant containers might include old chimney pots, plastic-lined baskets, boxes and crates, which can be treated to a new coat of paint or varnish. Old stone or ceramic sinks are popular for raising on a plinth or shallow ledge and planting with a collection of alpines, heathers or other relatively low-growing plants.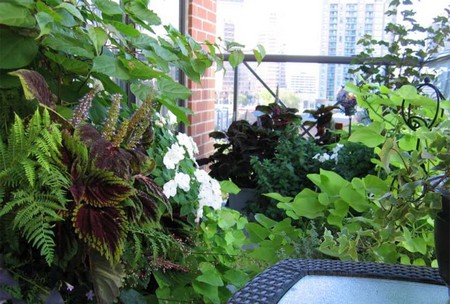 Plastic containers
The lightest and cheapest plant containers of all are plastic, and while they come in white or terracotta-coloured imitations of classic pot styles, they are never completely convincing and tend to look rather cheap and insubstantial. In fact, they do not last long because they are quick to crack or discolour, so apart from their weight advantage, they could be a false economy to buy. There are better quality, large plastic pots but their decorative use on the balcony is rather limited.
Maximizing wall space
Wall- and trellis-mounted containers are also of great importance in a balcony garden: not only are they good space-savers, but they add valuable interest at different heights. There are hanging baskets and metal hayracks to fix on to the back wall or a sturdy pergola, also window boxes and wall troughs to attach at the desired height for holding a selection of plants. If a strong trellis is not smothered in climbers, pots can be hung on or clipped directly to the framework, but don't forget that you will need some form of integral saucer or drip tray to prevent ruining the balcony floor. Remember, too, that these plants in particular will require regular watering as they are in the most exposed position of all and their soil will dry out quickly. They may need watering at least twice a day in very hot weather.
Further Readings:
Filed Under: General How To's
About the Author: Greenery always attracts Arthur Kunkle. He has a big garden where he plants many fruits and vegetables. His passion for gardening motivates him to write and share different tips on gardening.
Comments (0)