By Jason Prickett on Mar 03, 2018 with Comments 0
---
A whetstone is a tool, which is used to sharpen the knives and also other types of cutting devices. It is also called as water stones or sharpening stones. Whetstone looks like in flat shape or it can be in three-dimensional. Among other tools, razors, chisels, using whetstone sharpens knives and scissors. The whetstone consists of two basic types they are water and oil.
A whetstone of oil type is made by greasing the whetstone with a few drop of oil that smoothed lightly across the whetstone. A whetstone of water type is prepared by soaking the whetstone in water for about 10 to 15 minutes. Although, modern guides starts advise about the usage of any substance with the whetstone.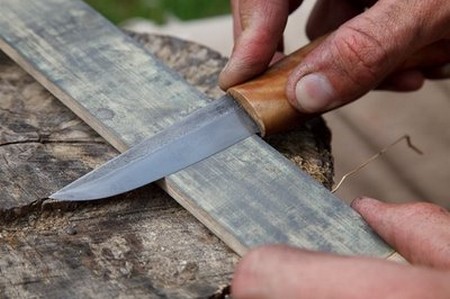 Overtime, soon knives will start to losses its sharpness particularly when you are making use of it continuously for all your household needs and for cooking purposes. But in place of buying a other knife or set of another knife, by using the whetstone the dull blades are sharpened easily.
Even though you consist of other options but when it becomes for sharpening, the most effective tool is whetstone tool. The whetstone will not grind more of the blade. But usage of whetstone is hazardous particularly, when you don't know the way to use the whetstone properly.
Instructions:
Make sure that the grit of coarse is facing upside and keep the whetstone on the cutting board.
Place the knife at an angle of 20 degree and place the blade heel on the stone.
To guide it, with the help of one hand balance the knife extended tip and move the blade towards you by sweeping across a stone.
At one blade side maintain the angle of grind till it reaches the cutting edge. For this ten strokes are used.
By detecting the curled edge check the opposite side edge.
Slightly flip the knife to another side and continue the process of grinding till the edge has burr.
Continue the process of sharpening after rotating the whetstone while the grit facing upside.
Once the blade has reached the desired sharpness then with the help of honing steel smooth the jagged edges.
Hold a knife at an angle of 20 degree and by using the similar method of whetstone move it over the honing steel. Repeat it to five to six times.
Overturn a knife and repeat. Then clean the whetstone and knife and store it away.
Things to do:
Polish or hone the edge smooth.
When you are using whetstone you should not go front and back. And smooth only in one direction.
Filed Under: General How To's
About the Author: Jason Prickett loves to write about home maintenance and stuff you can do yourself instead of hiring any professional. His step by step guides will assist you in completing your home maintenance tasks.
Comments (0)