By Leona Kesler on Feb 14, 2018 with Comments 0
---
Are you a fish lover? Smelt fishing is a nice spring activity for the entire family. Fishing for Smelt is easy and a great time. With any fish, cleaning them is the task. This is what intimidates people from going out to catch this lovely little treat of a fish. Here is a recipe for cooking and cleaning smelt. You can make this fish a great treat for friends and family. Read on for more information.
Items You'll Need:
Frying Skillet
Scissors
Sink
Oil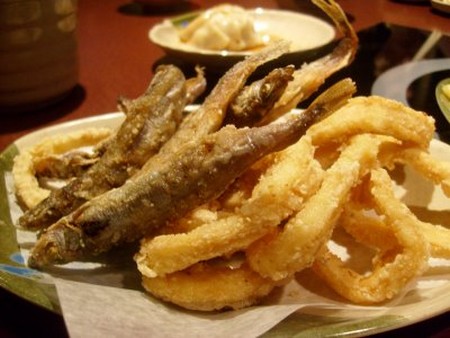 Fishing License
Smelt
Large Bowl (2)
Flour
Step 1
The point here is to slice the Smelt through its gill cover using Smelt scissors. Now, run the scissors from the anus to the neck of the fish. Leave the head on the fish. It can be barely attached, still leave it.
Step 2
Put the smelt in one hand and put the head off with the other hand. Pull firmly in a downward motion. The head will be able to be detached easily and also simultaneously remove the guts of the fish. This can be done in one movement. With a little bit of practice, you'll be a pro at this aspect of the cleaning in no time.
Step 3
Put some oil in the skillet and warm over medium heat. You can use canola oil or vegetable oil. You can use whatever oil tastes great to you.
Step 4
Rinse the fish off with cold running water. Place the wet fish on a dry paper towel. When all the Smelt pieces are washed and patted dry with a paper towel, shake flour or felt batter. You can also use a special fish batter placed in a Ziploc Bag. This gives the process a point of ease and creates less of a mess.
Step 5
Place the Smelt in oil in the skillet. Fry them until they are golden brown. You can also use a deep fryer. If you are using a deep fryer, the fish will begin to float on top of the grease and appear browned. The smelt fish will also butterfly as they cook thoroughly. Test to see that the fish is done by snapping it in half . Look at the flesh. Make sure it is in line with your preference. The meat should be flaky and hot.
Step 6
Place the hot fish on paper towels to soak up all excessive oil. Decide whether you want to serve the fish with tartar sauce. You can do this from scratch. Mix some mayonnaise with dill pickle relish. Serve with each piece of fish. Dip the hot Smelt into the tartar and enjoy!
Filed Under: Food & Cooking
About the Author: Leona Kesler is a head-chef at a very popular food restaurant in New York. Also she is a blogger who shares her experiences, tips, and other informative details about food and cooking. Her recipes are featured on many magazines.
Comments (0)