By Leona Kesler on Sep 20, 2020 with Comments 0
---
Frozen scallops can go directly from the freezer to the pan. Scallops are a favorite for seafood lovers. For people who don't live close to areas they can readily purchase the seafood delights, can purchase them in a frozen form. When scallops are frozen you can put them into the skillet in that form. They do not have to be thawed prior to cooking. Actually, thawing the scallops can change the texture from firm to squishy. Scallops are a nice and can be used in recipes that call for other seafood like lobster, crab or shrimp. The most common and less complex was to use these if to make a seafood boil. A seafood boil is not hard to make. Here is the recipe for a seafood boil you can make from the comfort of your own kitchen. Read on for more information.
Items You Will Need:
Spoon with Slots or Tongs
Butter ( ½ stick)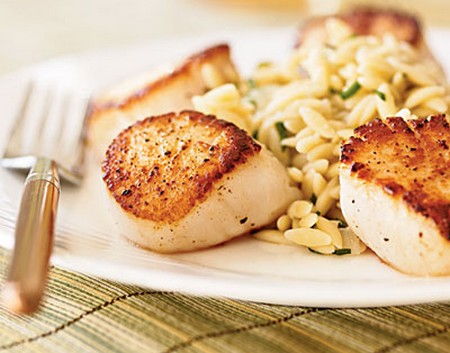 Lemon Juice ( ¼ cup)
Black Pepper (Fresh Ground)
Seasoning (Italian Mix Packet)
Frying Pan (Large)
Scallops (Frozen)
Step 1
Turn the stove top to medium heat. Add ½ stick of margarine (or butter) to a frying pan. Place the frying pan over the heat.
Step 2
After the margarine (or butter) has melted in the pan, put in ¼ cup of lemon juice. Heat the comination to allow the sauce to come to a rolling boil.
Step 3
The scallops get added now. Make sure they are still frozen. Gently put them into the hot sauce. Turn every frozen scallop one time to coat it evenly in the boiling lemon and butter sauce mix. All the liquid to return to a rolling boil.
Step 4
Allow the scallops to simmer just until they start to fold into curl around the perimeter. Take the pan off the stovetop. The middle of the scallops will need to be translucent. They will cook the remainder of the way through after they are removed from the heat. This is the best way to ensure that you do not overcook the seafood. These types of food items are extremely easy to overcook. It only takes a few minutes at best to cook them well. This quick cooking ensures that they aren't tough and doesn't affect the taste of the dish.
Step 5
Top the scallops in lemon butter sauce with some freshly ground black pepper. Add the Italian seasoning mixture and some delicious grated cheese.
Step 6
Serve the scallops and mix over jasmine rice or buttered noodles with garlic. Add the juices from the bottom of the pan. Toss thoroughly into the mix. Plate this for guests. Enjoy will hot.
Filed Under: Food & Cooking
About the Author: Leona Kesler is a head-chef at a very popular food restaurant in New York. Also she is a blogger who shares her experiences, tips, and other informative details about food and cooking. Her recipes are featured on many magazines.
Comments (0)